What Does It Mean To Microblade Your Eyebrows?
Since you are here, we assume that microblading is a new concept to you. You might have read or heard about it somewhere but are yet to figure out what exactly is microblading and how does microblading work.
If that's the case, you have come to the right place to learn about the eyebrow fashion trend that has taken the internet by storm.
What's Microblading Your Eyebrows?
Let's get the discussion underway by pointing out what microblading truly is. Microblading involves creating the appearance of hairs by implementing semi-permanent, tiny tattoos to the brow arch. The outcome is fluffy, perfectly shaped brows that don't require daily maintenance to retain the in-vogue look.
Microblading can be seen as a type of cosmetic tattooing that has its roots in China. Unlike traditional tattoos, however, microblading does not last forever. One microblading procedure is expected to last two or three years. You will have to undergo touch-up sessions in between. The semi-permanent nature of microblading allows for more flexibility in your brow game.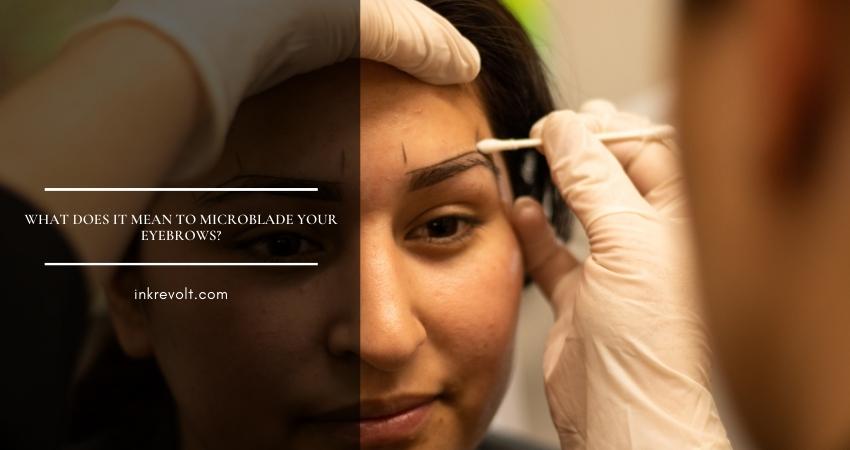 What Is Microblading For?
Eyebrow fashion trends have not been the same all the time. Back in the'80s, people were going for bushy brows as the likes of Brook Shields set the bar. In the '90s, however, pencil-thin eyebrows became more popular as Hollywood sweethearts like Pamela Anderson and Drew Barrymore rocked them.
Thicker eyebrows are back in fashion again, as you would see current pop-culture sensations like Lady Gaga, Kendall Jenner, Cara Delevingne, and Zendaya all going for thicker and fuller brows in their red carpet appearances. Modern beauty advances like microblading allow you to get the same impression effortlessly.
Microblading adds extra depth to your natural eyebrow lines and makes them look incredibly realistic. You can simply wake up and go about your business without having to worry about messed-up eyebrows. Overall, the goal is to either make a whole new set of eyebrows that look natural or add a bit of density to the ones that are already there.
How Do They Microblade Eyebrows?
How do you microblade your eyebrows? The first step is to look for an artist nearby. From high-end to local beauty salons, microblading is a common service to find these days. So, finding an artist should not be a problem, but you must look at some factors before making an appointment.
You want someone highly qualified for the procedure. Microblading is not an invasive surgical treatment, but still, it could lead to complications like infections if not done right. Hiring a skilled technician with rave reviews is your best bet for avoiding a botched procedure. Lower prices could be tempting, but it's not worth it if the practitioner is not qualified enough.
First, ask for a consultation, and if you feel convinced this is the right person for the job, set up an appointment. The technician will ask you to stop taking alcohol and caffeine before the procedure as it makes your skin stressed. If you have any previous cosmetic treatment and are taking allergy medications, make sure to let the technician know.
On the day of the procedure, the practitioner will take measurements of your face and make some professional recommendations. Needless to say, you can give your input as well. Once the two of you decide on a style, the practitioner will start prepping you for the procedure. A cream will be applied to your skin as a numbing agent so that you don't feel any pain.
The next course of action is picking the best colors that match your skin tone the best. This requires expert opinion, so you should trust your practitioner with this. After that, the practitioner will pick up a handheld device and start to draw tiny strokes of hair with it along your eyebrow arches.
The process can take up about two to three hours. After the drawing is complete, the practitioner will apply another coat of ointment over the drawn area. This will accelerate the healing process. You will be asked not to get your eyebrows wet for the next two weeks so that the pigment can settle into your skin.
Additional Read: Microblading Vs Microshading
How Does Microblading Work?
The artist makes hair-like incisions along the eyebrow line with the tiny needles of the dedicated tool. At the same time, the machine also inserts pigment into those cuts. The pigment resembles the natural skin and hair tone. Therefore, microbladed eyebrows look exactly the same as natural eyebrows.
Final Thoughts
Microblading has caught on like wildfire in the world of eyebrow fashion. The overplucking days of the '90s might return at some point in the future, but right now, thick eyebrows are the rage and microblading is the most convenient and effective way into getting those. There has never been a better time to get a microblading makeover.
We are sorry that this post was not useful for you!
Let us improve this post!
Tell us how we can improve this post?