How to Find a Tattoo Artist? [4 Practical Ways]
Finding a tattoo artist can be quite the predicament. Even if you're not new to body art, finding the right artist who can depict exactly what you want can be stressful. More so because of the surge of popularity of tattoo culture and market over saturation. So, how to find a tattoo artist that suits your needs?
The best place to start is to talk to someone whose tattoo you admire. Aside from word of mouth, you can check on social media, and search for famous tattoo parlors nearby. Make your choice after reading reviews, perusing their portfolio, checking out their shop conditions, and talking to them directly. Do not hesitate or skip out on any questions or requests you have.
It may seem that a recommended tattoo artist can do whatever art you need. Unfortunately, your vision won't match with every tattoo artist. Even if they meet your other requirements, and they are very skilled, they might not resonate with your concept.
To help you out I'll also be discussing some basic requirements that every tattoo artist should meet, and how you'll know you want to work with one.
How do You Find Tattoo Artists?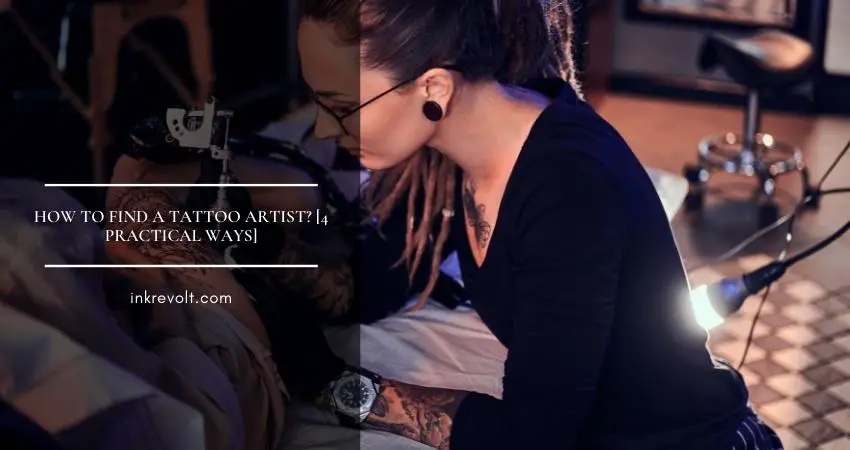 Finding a tattoo artist can be quite confusing and problematic. You can always look online, but you can't rely on the surface results. Also, finding one who's nearby and skilled can be a problem.
Here are some reliable methods to find a tattoo artist. I've listed them in order of reliability.
Word of Mouth.
Searching for tattoo artists nearby.
Social Media.
Trying online consultation services.
1. Word of Mouth
If you want to find a tattoo artist that you can trust, then you should just ask around. There are bound to be people whose tattoos look amazing to you. Asking them to refer their artist to you can directly lead you to the artist you need.
Word of mouth is reliable because people rarely talk positively about service, even if they have a good impression of it. It's likely that they'll begin with their problems if you ask for their artist. You should pay attention when someone praises their artist.
Another reason for its reliability is because you can see the result. You can check how the tattoo looks and has held up. And you can hear about all sorts of details.
Make sure to ask about these things specifically.
How they found the artist.
The artist's shop condition.
The artist's attitude.
The artist's art style.
How thorough the instructions for pre-procedure and aftercare were.
If the procedure was painful.
How they feel about the tattoo.
These questions can help you understand what you're getting yourself into. You may find that the process was a bit more painful but produced a beautiful tattoo. You can understand if there's any tradeoff like this and whether you're willing to go through with it.
2. Searching for Tattoo Artists Nearby
You can always search on the web for tattoo artists near you. You'll end up with a near-comprehensive list of all the artists nearby, and possibly some Google ratings. But these ratings aren't very reliable.
Instead, you can search for each artist's webpage. They may have a website where they feature their work. You can also contact them requesting to view their work.
Reviewing their portfolio will give you an idea of their skill, art style, and attitude. You can talk to them directly and ask if they're willing to consider your idea. You can choose to visit them directly to check out their personality and shop conditions.
This process is a little slower than the other options. But this leaves the power directly in your hands. You can choose the artist who'll work with you, instead of being influenced by others.
3. Social Media
Instagram and Pinterest are full of artists featuring their works. You can browse around these sites or join a Facebook group on tattoo culture. You can post or ask for suggestions and share your idea.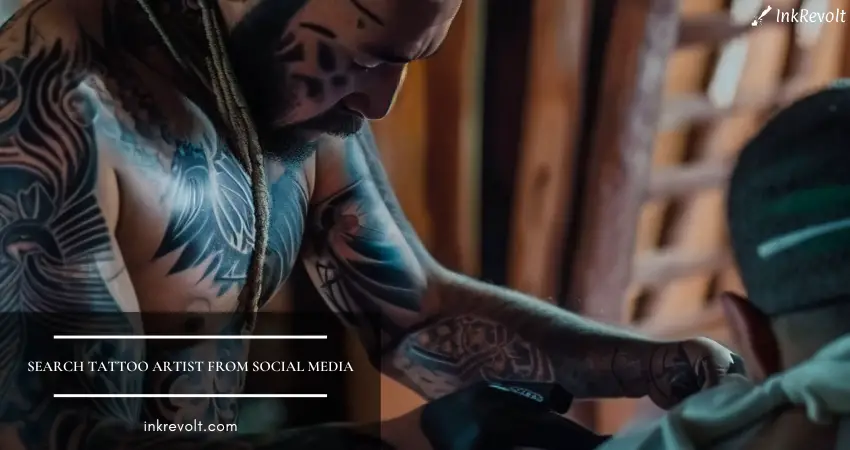 The problem with finding an artist like this is you might come across WOM marketers. It's possible to hire marketers who leave positive reviews on social media or talk them up to prospective clients. You'll have to filter these out and try to find genuine suggestions.
Another issue is that most artists will compete for attention and only put up their most extravagant art. Or hype themselves up by saying they represent some tangible cause. In either case, you don't get a comprehensive idea of what they are capable of.
The final issue is pricing. An artist popular on social media can charge far more than they're supposed to. It's hard to spot if they are overcharging, especially if it's your first time.
Despite all these issues, social media can be a good place to look for artists. Now that you know what to avoid, ignore overly popular or hyped artists and try to scrutinize the reviews. And always contact the artist directly before setting up an appointment.
4. Trying Online Consultation Services
Maybe you're indecisive and can't find anyone for recommendations. You can try an online consultation service for body art. These applications or websites promise to find you an artist based on the information you provide them.
They promise to share your idea with their network of artists and see who's willing to work with you at what rate. But you have to remember that these artists come from their recommendation, and you'll have to research these artists yourself.
The problem with these services is that they take a consultation fee whether you find what you're looking for or not. You can't also directly negotiate with the artist. You'll likely be quoted an amount.
Now that you know how to find a tattoo artist, you need to know how to judge if they are the right ones for you. I've broken down how you can evaluate an artist, from the basics to the aesthetic nuances.
What are the Basic Requirements of a Tattoo Artist?
A tattoo artist has to meet some basic requirements. These aren't some abstract metrics that you'll use to judge the tattoo artist. There are government regulations that tattoo artistshaves to follow. Before anything else, the artist must comply with these basic rules.
Unfortunately, due to the boom of tattoo culture, inexperienced or fraud artists are popping up everywhere. You'll have to keep your eye out for scammers like these.
Body art is regulated differently in each state. However, you can check for these things in general.
License
History of practice and training
Hygiene regulation
Sanitary operation
Client consent
Tattoo Artist License
Every tattoo artist should be licensed by the government. Some states have lax regulations, such as Ontario. But in most cases, tattoo artists are strictly regulated and are required to have a license to operate.
Some states like Florida even demand that artists should have adequate medical knowledge and skill before they are permitted to practice. You should always check if an artist has a license. If they sidestep the issues or don't have one, report them immediately.
History of Practice and Training
In many states, tattoo artists must undergo medical and bloodborne pathogen-related training programs. It's also typical for good tattoo artists to apprentice under established artists or parlors first before practicing themselves.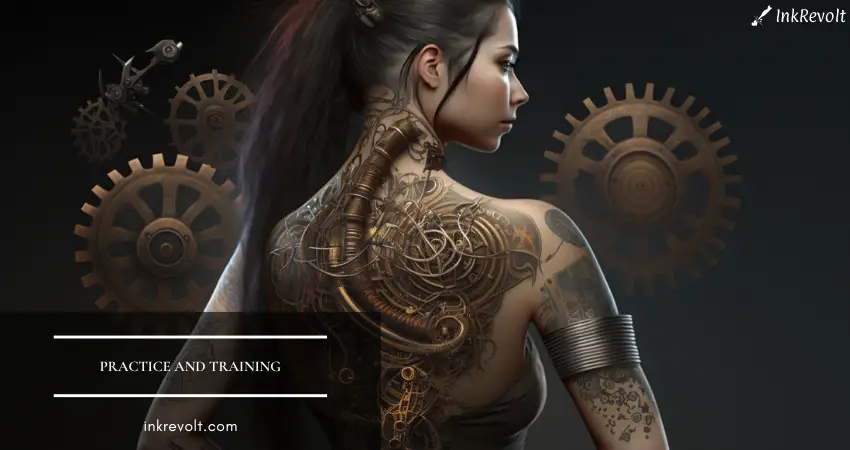 You have a right to access this information. Make sure to backtrack and review the shop or artist they apprenticed under. You can get a sense of their art style and approach from this investigation too.
Hygiene Regulation
Keeping the tattoo parlor clean and sterile is of utmost importance. If the environment or equipment isn't sterile, then you can contract bloodborne pathogens such as Hepatitis C Virus (HCV), Hepatitis B Virus (HBV), as well as Human Immunodeficiency Virus (HIV). All of these are deadly enough to end your life.
The parlor should be visibly clean, and the equipment should be kept in a sterile, isolated environment. You can check out images of their shop, but it's best to go check what the conditions are like in person if possible. You can check for the following.
Clean, sterile rooms.
Clean hands.
Sterile gloves.
Organized workspace with ink, pots, papers, and towels in designated places.
New tattoo needles are still in their sterile package.
Tattoo machine that's been sterilized in the autoclave.
Sanitary Operation
The artist should abide by government-procured sterilization, sanitation, and safety standards. California, for example, demands the following while tattooing someone.
Washing hands with running water and soap.
Drying hands thoroughly before the procedure.
Use of aprons or bibs.
Use of protective equipment.
Use of gloves.
Use of disposable razors only.
Use of antiseptic solutions before the procedure.
Providing clear aftercare instructions.
Isolate and manage waste properly.
Disinfect tools before the next procedure.
All states have different laws regarding the process. You should check out your state's regulations and see if the artist is operating accordingly. Those who maintain these regulations are safer and more reliable.
Client Consent
Prior to the procedure, the artist will have to give you a form. It should describe the procedure, the risks, and aftercare and warn you that the art is likely permanent. It should also contain information about infections, other possible issues, and how to deal with them.
This form will also be proof of your consent aside from providing all this information. In many states, artists are legally bound to provide you with this document. Don't hesitate to ask for it.
These are the basic regulations that your artist should maintain. Abiding by them shows the artist's credibility, sincerity, and understanding of client safety. But it's not enough to answer how to find a tattoo artist that's perfect for you.
Skill is Key
Right after the basics, skill matters the most. A skilled artist will have the experience and ability to make your dream tattoo become reality. If you want to check for skill, try asking for their portfolio, and see if they're willing to provide photos of tattoos pre- and post-healing. See if you can identify the following qualities.
They always use stencils.
Straight, solid single lines done in one pass.
No lines, blotches of odd colors left after shading.
Outlines meet up, and colors stay within the lines.
They are good or great at script tattoos.
Their quality of work is consistent across the board.
Script tattoos are good indicators of an artist's skill. The more diverse and precise their script tattoos are, the more delicate their touch is.
Attitude Matters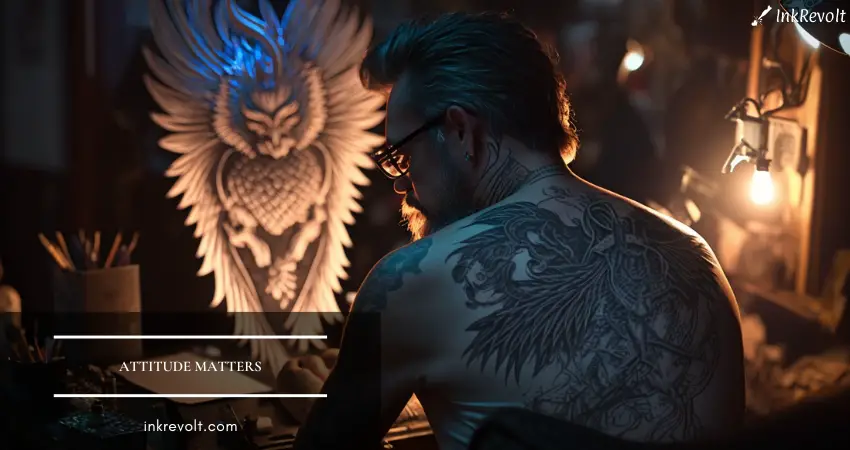 You might not think of it, but attitude is a major aspect of choosing tattoo artists. Their attitude will have a direct impact on how your tattoo turns out. Check for the following key issues.
Do they have a personable demeanor?
Do they appear energetic, or hungover and haggard?
Are they willing to listen to your ideas?
Do they reject your concept outright, try to adjust, or agree without understanding?
Do they discuss tattoo placement, painfulness, ink, colors, and ideas for art?
Are they willing to explain something you want to know?
Do they ask about your thoughts and experience with tattoos?
Do they provide suggestions of their own?
You're looking for a good blend of listening, understanding, and feedback. Tattoo artists should take in your concept, and experience, and try to provide feedback on how to make it a reality. An overly compliant or defiant artist would be problematic. Try finding an artist who'd take the time to find possible modifications or enhancements to your idea that you agree with.
Also, the artist should ask for your choices regarding ink and medical history. If you have any specifications, they should accommodate you.
Art style
Accessing their portfolio will also give you an idea of their art style. Your concept needs to match their art style. Otherwise, the message you want to bear might not come across as clear enough.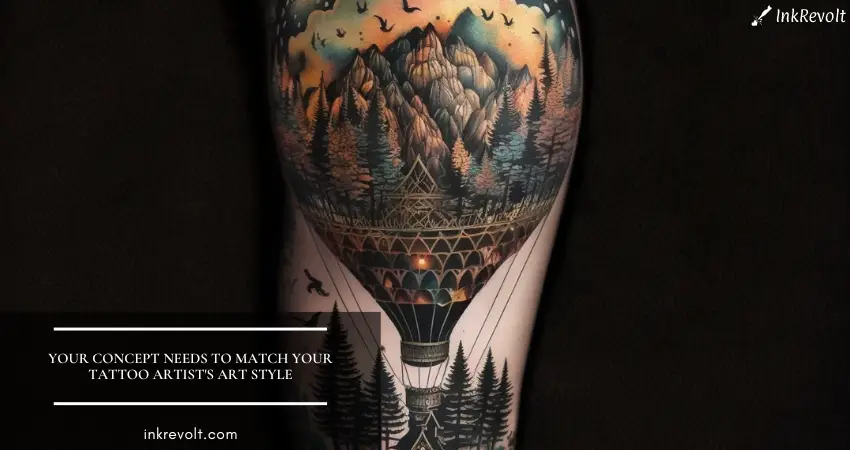 You can talk to the artist about their process for better comprehension. While you're discussing your concept, ask how they build their stencil and envision the result. Don't hesitate to request a specific art style for your tattoo. If you want true to life and the artist is a surrealist, it's fine to look for someone else.
Frequently Asked Questions (FAQ)
What is the best way to find a reliable tattoo artist?
The best way to find a reliable tattoo artist is through word of mouth recommendations from people whose tattoos you admire. You can also search online for artists nearby, browse social media, or try online consultation services.
What are the basic requirements that every tattoo artist should meet?
Every tattoo artist should comply with government regulations, which include obtaining a license, undergoing medical and bloodborne pathogen-related training programs, maintaining hygiene and sanitation regulations, obtaining client consent, and providing clear aftercare instructions.
How can you evaluate a tattoo artist's skill and attitude?
You can evaluate a tattoo artist's skill by checking their portfolio and asking for photos of tattoos pre- and post-healing. Look for straight, solid single lines done in one pass, no lines or blotches of odd colors left after shading, and good or great script tattoos. You can evaluate their attitude by assessing their personable demeanor, willingness to listen to your ideas, discuss tattoo placement, painfulness, ink, colors, and ideas for art, and provide feedback and suggestions.
What should you keep in mind when choosing a tattoo artist?
When choosing a tattoo artist, keep in mind that their art style should match your concept, and their attitude should be personable, enthusiastic, and understanding. Ensure that the artist meets the basic requirements, and don't hesitate to ask for specific information and aftercare instructions. Beware of cheap prices and always prioritize safety and reliability.
Conclusion
If your piece is complicated, you can also look into the artist's aesthetic knowledge. However, typically checking for the basics and metrics provided is sufficient. You can additionally check for pricing if you want. This is one of the rare cases where cheap should make you suspicious.
If you want to know how to find a tattoo artist without hassle, then ask people to refer their artists. It's fine to ask anybody about their body art, as most people take pride in it. Remember to be open about your experience with tattoos. It will make a drastic difference in how the artist expects you to react during and after the procedure.
We are sorry that this post was not useful for you!
Let us improve this post!
Tell us how we can improve this post?