Solong Tattoo Ink Review: [Features And Benefits]
You cannot earn a client's trust if you do not use safe and reliable tattoo ink. While professionals can immediately tell which ink is better, it is not an easy task for beginners. That is why it is essential to research well and find out which tattoo ink will meet all your and the client's expectations.
Solong tattoo ink kit is a suitable option for anyone looking for a large set of tattoo inks at an affordable price. With so many color options, this ink set is hard to ignore. But I would say this tattoo is more effective to practice on than using it for permanent inking.
Why? I will explain everything in this Solong Tattoo Ink review. So, if you plan to get this ink set for your clients or practice, I encourage you to read the entire article first.
Introducing Solong Tattoo Ink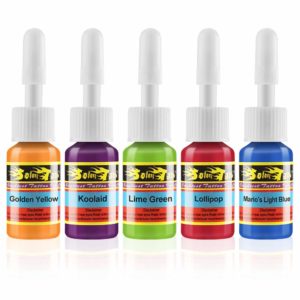 Product Features
Manufacturer: Solong Tattoo Supply
Country Of Origin: China
Suitable For: Beginner Tattoo Artists
Solubility: Soluble in water
If you are not familiar with the brand already, let me introduce you to it first. Solong tattoo inks is a Chinese brand. The company that manufactures and supplies it is known as Solong Tattoo Supply.
Jack Wang founded the company in 2008. And even though the company is relatively new, Solong tattoo inks and kits have received recognition for their satisfying quality, affordability, and effective result.
The brand offers a one-year warranty for its products with a refund and return policy. No wonder customers prefer the brand's inks for their artistic work. Solong offers a variety of ink shades for its customers. Each bottle contains enough ink to last many uses, and you can store it for a good amount of time.
Who Is This Product For?
Do you think only professional tattoo artists need tattoo ink? Of course not! Even tattoo and tattoo artists have various types. Here is a list of people who can use Solong Tattoo Inks:
Tattoo artists who want to practice on fake skin
Beginner tattoo artists
Hobbyist tattoo artists
Professional tattoo artists
Traditional tattoo artists
Problems You Might Face
Like every other tattoo ink, this one also comes with some drawbacks. So what are the problems you should be prepared for if you use Solong Tattoo Ink?
Not Suitable For Permanent Makeup
No matter what anyone tells you about it, I would tell you not to use it as permanent inking on your skin. This is an excellent ink set to practice and learn. But human skin is not suitable as it causes a reaction on sensitive skin.
But that does not mean people are not using them on the skin. Some users had no skin irritation or any other reaction to this ink.
Not The Most Vibrant Color
Yes, the colors are wonderful, no doubt about that. But if you use it on the skin, you will notice that the colors do not look as exquisite as you thought. Since they are more suitable for practice skin, you cannot expect the ink to last and look ravishing too long.
Reasons to get
Best ink set for anyone who wants to practice tattoo art
Comes with a vast range of colors and various shades
Easy to mix
Free of animal cruelty or testing
Quality product at a budget-friendly price
No license is required to purchase the product
Reasons to avoid
The ink has a very thin consistency
Not highly suitable as permanent makeup and best to avoid using on human skin
Some colors fade off faster
That was not even all of what you needed to know about Solong Tattoo Inks. Even though the disadvantages look like huge drawbacks, there are certain benefits that the ink set comes with.
If you want to know more features and benefits of this ink set, check below:
Solong Tattoo Ink Review: Features And Benefits
While many tattoo artists and clients would want to use USA-made inks because they are more authentic, foreign-made inks can also be good enough to do the job.
Solong might be a comparatively newer brand. But it has come this far because of customer satisfaction and effective work.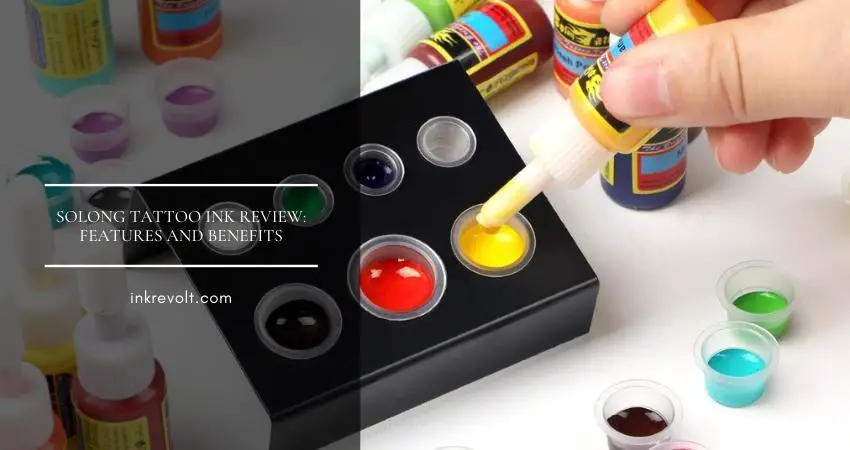 Color Variation
One of the many things that draw users to this tattoo ink is its huge color variation. In this pack, you will get 54 vibrant color shades. It means you do not need to purchase any color separately or mix two or more colors to get a new one. I would have listed all the names here, but that would take a lifetime for you to finish reading the entire review.
Safety
Now, here is where most professional tattoo artists and those who know about tattoos argue. While many people use Solong tattoo ink to ink on human skin, some advise against it. The problem is that the inks do not contain any information on all the ingredients used.
On top of that, some users faced issues like slow healing, skin infection, irritation, etc., making others doubt its quality. But at the same time, many users are satisfied with the ink's results. However, it is best to use the ink for practicing purposes only.
User Type
So, who can work with these tattoo inks? The answer is pretty much any type of tattoo artist. However, the confusion regarding its safety makes some users withdraw from it. Though professional artists use these inks on their clients, it is suggested to use them for practicing purposes only.
If you are learning tattoo arts, these inks are a suitable option for various reasons. You get a variety of colors to work on. So, any novice or starter tattoo artist can practice on fake skin with these tattoo inks.
Performance
These tattoo inks come in small but well-sealed dispensers, making them easy to pour and mix. The inks are pretty thin, which is a handy feature to mix them effortlessly. But the problem with such thin inks is that they require more effort to get a satisfying result. Professional tattoo artists found that these inks leave a vibrant finish if applied correctly.
Durability
Let's see if this controversial tattoo ink lasts as long as other claims. While most of these colors are long-lasting, some tend to fade quicker than the rest. So if you want a long-lasting permanent ink on your skin, it is best to look into other options.
Alternative Products
The Solong tattoo ink set is not dangerous. You can still use it for professional purposes. But for the client's safety, you can opt for different inks if needed. Here is an alternative tattoo ink suggestion just in case you want to check out a different brand.
One Tattoo World Premium Tattoo Ink Set, 15 Colors
If you do not care about the number of shades but want satisfying results, this tattoo ink set is your best option. One Tattoo World offers this 15-color tattoo ink set for beginner to professional tattoo artists.
Whether you want to ink a new tattoo or touch up the old ones, these tattoo inks offer a vibrant color for any type of tattoo if applied correctly. The company ensures customers' safety as the inks do not contain any toxic or harmful ingredients.
Beginner tattoo artists can use these inks to experiment and practice on fake skins. At the same time, professionals use and recommend them for their quality and durability.
One Tattoo World Premium Tattoo Ink Set | 15 Colors | 15 ml Bottles
INK SET FOR TATTOOS: This ink set is just what you need to get started on your DIY or professional tattoos. This tattoo-grade ink is safe to use with all your personal tattoo creations and will have your friends wondering who your tattoo artist is. Touch up your already existing stick-and-poke tats or design a new one for yourself. Whatever you choose, this ink is sure to look great.
VIBRANT COLORS: Each 15 ml bottle in this premium, 15-bottle, tattoo-ink set is a different, vivid hue, so each of your body tattoo creations will be bursting with color. In this pack we have included: Ture Black, Fuschia, Snow White Opaque, Golden Yellow, Bright Red, Bahama Blue, Coco, Blue Sky, Light Green, Light Purple, Bright Orange, Rose Pink, Silver, Lemon Yellow, Mario's Light Blue
PROFESSIONAL QUALITY: Each bottle of permanent tattoo ink in this colorful pack of tattoo accessories is made of high-quality ingredients that will safely dye and tint your skin pigment the way you want. The ink will only last if the tattoo is done correctly with a needle that properly and safely penetrates the dermis layer of the skin.
ROTARY MACHINE OR TATTOO GUN: Whether you plan to open your own tattoo studio or you just want to have your own professional tattooing equipment for personal or beginner tattoos, this ink set is the best choice. One Tattoo World's colorful, shading-and-lining tattoo ink works well with most standard rotary tattoo machines and tattoo guns. Put your art out there for the world to see!
ONE TATTOO WORLD: At One Tattoo World, we are dedicated to providing our customers with affordable, premium tattooing equipment. If you're looking for a one-stop shop for all your tattoo needs, you've found it. We believe it is important for everyone to be able to express their artistic selves to the world in whatever way they please. That is why we make sterilized tools for your tattoo needs.
As an Amazon Associate InkRevolt earns from qualifying purchases.
Wrapping Up
The Solong Tattoo inks might not be among the widely-used tattoo inks by professionals. But if you check on Amazon reviews, you will notice that DIY and beginner tattoo artists use and prefer them.
This Solong Tattoo ink review was to inform you of all the essential features, benefits, and drawbacks of the product. Now it is up to you to decide whether you want to purchase the set. However, I must add that these inks are suitable for anyone who wants more color options at a budget-friendly price.
We are sorry that this post was not useful for you!
Let us improve this post!
Tell us how we can improve this post?