How To Apply A Temporary Tattoo?
A lot of people prefer a temporary tattoo to a permanent one, and it is absolutely understandable. Because first of all, it's temporary. You can remove it and try a new design anytime you want. But many are confused about it because they do not know how to apply it.
To apply a temporary tattoo, you have to pick a design, then place it, and press it! Yeah, it's as easy as it sounds!
However, if you're thinking that there's surely more to it, you are right. It's nothing much, just the entire process with the bits and pieces. Keep reading if you want to learn it step by step.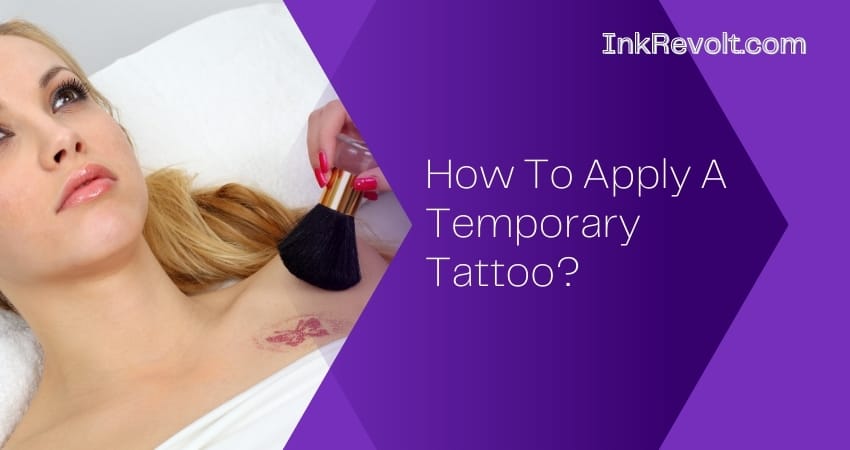 How Do I Apply A Temporary Tattoo?
The process is very simple. Just follow the following steps.
Step 1: Cleaning The Skin
Your skin has to be clean and dry before applying a tattoo. Choose an area of your body where you want to apply the tattoo. Then, wash it with soap and take a towel to wipe it dry.
Step 2: Picking A Design
Here comes the best part, where you get to pick a tattoo design. There are a lot of designs of different colors. Choose your favorite design from them.
If you can't decide, take your time. Because it's temporary and you can always try other designs!
After you've picked your design, cut around it using scissors and remove the protective layer.
Step 3: Placing The Tattoo
Now, apply the design on your skin, keeping it face down.
Step 4: Pressing The Tattoo
Take a damp sponge or washcloth and put pressure on the tattoo with it. You can use a wet paper towel as well. Whichever you use, make sure it's not excessively wet.
Press the tattoo and keep it like that for a minute at least. DO NOT move the sponge or the tattoo before the time is up.
Step 5: Removing The Backing
When the time is over, remove the towel gently. Then, remove the tattoo carefully, starting at one of its corners.
Step 6: Moisturizing The Skin
Let the tattoo dry for several minutes. Once it's completely dry, use a high-quality water-based moisturizer on the tattooed skin. There you have it!
Read More: Temporary Airbrush Tattoos
What If I See That The Tattoo Design Has Not Completely Transferred?
If you notice that the design has not completely transferred to your skin while removing it slowly, press it back into its place and put pressure with your damp washcloth.
Keep it like that for 30 seconds to 1 minute, and then remove it.
How Many Days Will My Temporary Tattoo Last?
Depending on which product was used for the color and what kind of skin condition you have, your temporary design can last from 3 days to several weeks.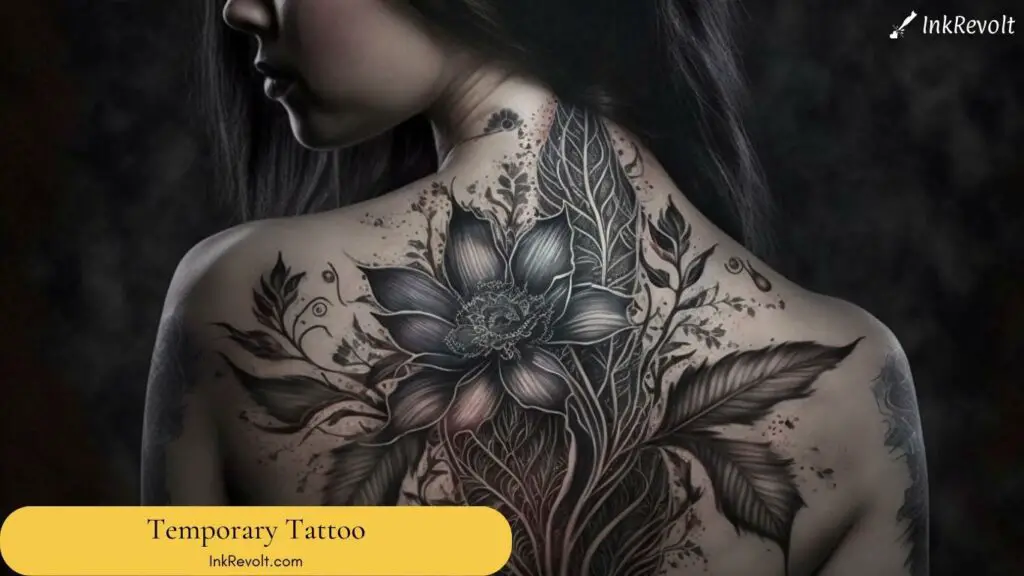 What If I Want To Remove It Before It Fades Completely?
The best thing about temporary tattoos is that you can do whatever you want with them. If you want to remove it manually before it's gone, you can do that too!
Here's how that is done:
Step 1: Using Some Oil
Remember that I said you should use a good quality water-based moisturizer after getting the tattoo done? Because your tattoo can smear if you use an oil-based moisturizer.
But when it's about removing it, an oil-based moisturizer is what you need. Take a good amount of petroleum jelly or baby oil and apply it to the area where the tattoo was done.
Step 2: Rubbing Away At It
Take a washcloth to rub it away at your tattoo gently. You can even use your fingers too.
The tattoo should be flaking away slowly when you start rubbing. Continue this until the tattoo is totally gone. You can apply more oil if it is necessary.
Step 3: Cleaning The Skin
After the removal is done, wash the skin with soap to clean it. Then, use a towel to wipe it dry. And that's it!
Additional Read: How To Make A Temporary Tattoo With Perfume
Anything I Have To Keep In Mind?
Yes, it's better if you keep some things in your mind before applying a temporary tattoo:
Hair removal is recommended before you apply a tattoo. Tattoos and hair do not mix well.
Avoid tattooing if your skin is sensitive.
Remove your tattoo if there is any redness, itching, or tingling sensation in your skin.
For allergy reaction concerns, a patch test is recommended.
Final Words
So, that's all about applying a temporary tattoo.
Just go through the steps and get it done. Don't hesitate or suffer from indecision because you can always remove the tattoo.
If you think you'd like it more if it lasted longer, here's a tip for you: using a sealer will make a tattoo last remarkably longer! Now, when are you going to get one?
We are sorry that this post was not useful for you!
Let us improve this post!
Tell us how we can improve this post?