Should I Get Microblading? [Important Considerations]
People are becoming increasingly interested in microblading, which has caused many salons to provide the service. While it is only normal that your neighbors' or friends' refilled and refined eyebrows fascinate you to do the same, it is also normal for you to doubt it. What if it is not for you? Should you really be a go-getter in this case?
You can consider getting microbladed eyebrows. Now that there are more experienced and talented semi-permanent makeup technicians today, the odds of anything going wrong with microblading are virtually zero. The results will surprise you when you see the final changes.
Now, I do not expect you to go and book an appointment in a microblading salon after reading my answer. So, while you are here, let me justify why I said what I said.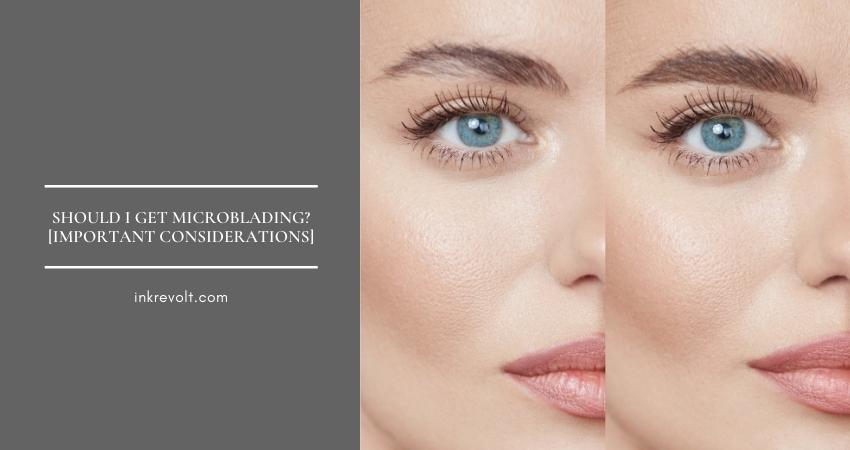 Should I Microblade My Eyebrows?
You should be the one to make your decision. I think knowing the pros and cons will help you in that regard. Let's start with the plus points.
1. Fuller And Thicker Eyebrows And A Natural Look
Have you ever woke up in the morning, got in front of the mirrors, and wished for more defined and thicker eyebrows? Microblading could make that wish come true.
It can give your brows the new yet natural look that you want.
2. No More Eyebrow Products
Microblading will enable you to say goodbye to the eyebrow products that you have to spend a fortune on every year.
When you have microbladed eyebrows, you will not need brow powder, brow pencils, or other products to shape them. They will stay perfect 24/7 without you needing to use anything else.
3. No More Wasting Time To Put On Brow Makeup Every Day
Microblading is for those wearing makeup to bring the perfect look to their brows, which takes a big chunk of their time every morning. The treatment could save you from that by reducing your cost and effort.
4. More Long-Lasting Than You Would Think
As you know, microblading is semi-permanent. So the brows will lose their appearance within 1 to 3 years with yearly touchups. What's more, they will not smudge if you touch them or get them wet while swimming or exercising.
5. A Painless, Swift, And Smooth Procedure
Most technicians take about 2 to 4 hours to perform the procedure. They will use the numbing ointment and cream to make it painless.
The healing phase will require a month. Then you will book a follow-up session after 1.5 months and an annual retouch appointment.
Additional Read: How safe is microblading
What Factors To Consider If I Decide To Get My Brows Microbladed?
Now you know the benefits that microblading offers you. So you do not have to wonder whether it is right for you or not.
But yes, like every other thing, there are several factors you should consider before making your decision. Among them, the treatment cost is one. But the technician's efficiency and your skin type are important too. More details on them are below.
1. The Treatment Cost
The microblading cost differs from one artist to another. Most charge a price between $500 to $1000 for the first appointment.
Some beauticians include the second session (a follow-up after six weeks of healing from the first one) in that charge, while some do not. And the retouch appointments typically take $250.
The whole expense will amount to $1250 at most. But it is nothing if you compare it to the money and time it will save you.
2. Your Skin Type
Microblading is best suited for normal skin. That does not mean people with mixed or oily skin cannot get it. But they will experience a faster fading than others with dry skin.
3. Choosing The Beautician
The final yet crucial factor is knowing if you trust your chosen beautician with the treatment, which includes being aware of their expertise level, academic background, training, and experience. You can also take reviews from friends and acquaintances to learn more about your artist's way of working.
Who Should NOT Get Microblading?
Not everyone is eligible for microblading. People with the following cannot get this treatment for a specific period.
Pregnant women and breastfeeding mothers cannot get their eyebrows microblading. It could impact their babies by increasing the chances of infection.
The other cases are having wounds or pimples on or around the brows, having sunburn, getting cancer treatments, having a poor immune system, and taking isotretinoin in the last half year.
You should also wait if you have recently got botox, laser treatment, an eyebrow wax, or chemical peel.
Other than these categories, people with large pores and highly oily skin also do not make eligible candidates for the procedure. They will need a different method to get their brows done. Besides, individuals older than 55 years should avoid it. Mature skin does not settle well with microblading.
Frequently Asked Questions
How Old Do I Have To Be To Get Microblading?
You must be at least 18+ to get microblading. If you have already got any PMU treatment or want to fix a mishandled microblading job – make sure you consult your artist first.
Will Microblading Ruin My Brows?
No, it will not. Although it reshapes your brows entirely, microblading does not have any lasting effects on the growth of your natural hair.
Will My Brows Look Natural After Microblading?
Yes, it will when done by an experienced and professional artist. That is why you should choose someone who knows the art of restyling one's brows.
Final Words
I think I can confidently say now that the detailed discussion has helped you be sure of getting your brows microbladed. However, if you are still dubious, it is alright. Take your time.
While the benefits are convincing, it is, after all, about making a change to your body. So do it when you are confident that you want to do it. Do not feed your FOMO on the spur of the moment only to regret it later.
And hey, you are beautiful either way. Don't forget that! Good luck deciding if you want to get microblading or not!
We are sorry that this post was not useful for you!
Let us improve this post!
Tell us how we can improve this post?