How to Make Fake Skin for Tattooing?
To become a successful tattoo artist, you'll need to practice as much as you can. So, you need a cheap but quality canvas that you can practice on. But good alternatives or practice skins can be quite expensive. So, how to make fake skin for tattooing, and make it cheap?
You can make fake skin at home using Elmer's glue, hot water, makeup or paint, and flour or cornstarch. Mixing flour and water will create a dough to which you can add the glue and flesh coloring. Rolling the dough flat will produce skin-colored sheets that you can practice tattooing on.
The process of making the fake tattoo is quite easy, but you'll need a bit of elbow grease if you want to work on these all the time. So, why would you pick something that requires more effort when you can find quality alternatives on the market?
Why Make Fake Skin at Home?
Fake skins are readily available on the market. You can get packs of these skins, and they make good practice surfaces. You can even get pig skin which produces a human skin-like feeling, making the practice seems more realistic. Yet, they aren't the best option for you.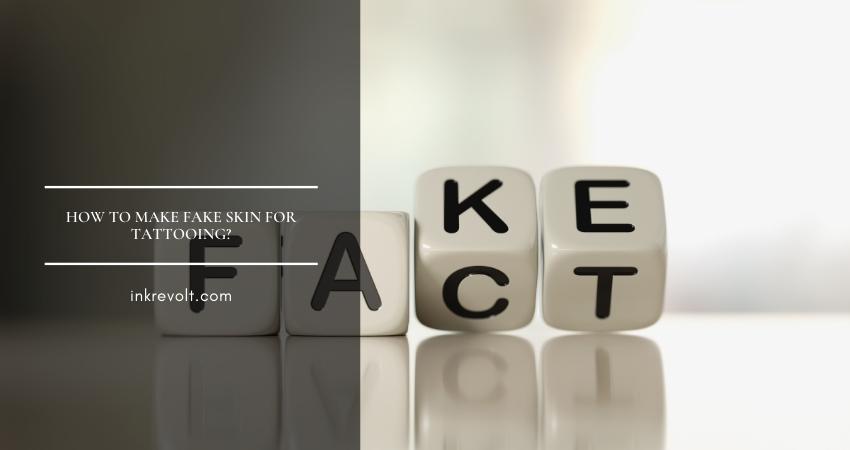 Here are some issues that come with these practice skins.
Cost: The cost of these skins isn't cheap. Each sheet will cost you about $2, and it won't reduce even if you buy in bulk. The pig skin is even more expensive, costing at least $5 per piece.
Size: The size of these skins is a big issue. You'll get standard cut sizes, which allow you to practice tattoos of sizes that would fit on an arm. But if you want to test yourself by practicing a larger tattoo, then you'll have to spend extra, or you won't get the size you need.
Preservation: Most fake skins hold up quite well in reserve. But pig skin, which provides the most realistic experience, won't hold up more than an hour or so. The skin integrity will rapidly decline if not kept cold, and you might not get the chance to work on it.
Practicality: If you're working as an apprentice, odds are you have to pay the tattoo shop for the training. You won't have a primary source of income for a couple of years, other than working a side job. No matter how inexpensive fake skins may seem, every dime you can save will help sustain yourself. Making the skin yourself might seem like a hassle but making a batch of fake skin will cost a bare $0.90 at most.
If you want to make some extra cash on the side, you can also sell the skin to other apprentices too. Buying fake skins or pig skin will hurt your wallet over time, especially because you'll also need machines, needles, colors, and more to practice.
How to Make Fake Skin for Tattooing at Home?
To make the fake skin, you'll need these ingredients.
3 fl oz or less of clear school Elmer's glue.
Plastic bag or piping bag.
1/4th of a cup or 2 oz of cornstarch or flour.
1/3rd of a cup or 2.7 fl oz of warm water.
2 fl oz or less of flesh coloring.
A mixing bowl.
A rolling pin.
A fork, whisk, or a stand mixer.
As I've mentioned, you can get a batch worth of ingredients for only $0.90. You don't have to worry about flour, cornstarch, or flesh color quality. So, opt for the cheapest options that get the job done.
Once you've sourced your ingredients, you can follow these steps to make your fake skin.
Whisk the flour or cornstarch and half of the warm water in the bowl to create a dough. Pour in the rest of the water slowly as you begin to knead. You shouldn't add more water, but you can add more flour or cornstarch if you need to.
Keep kneading by hand or put it in the stand mixer till the dough achieves a thick consistency, but it's still malleable. Roll out the dough into a flat sheet using the rolling pin.
Pour in the glue and the flesh coloring into the plastic or piping bag. Mix it well, and either cut a hole in a corner of the plastic bag or use the nozzle to add the mixture to the dough. Pour it evenly onto the surface of the sheet.
Once done, begin kneading the dough once again, this time by hand. Knead till the coloring is even all over, and all the ingredients have been properly mixed.
Use the rolling pin to roll the dough onto a flat sheet again. Make sure the sheet is as thin as possible so that you can practice with similar thinness of the human skin layers. Also, the sheet will dry faster this way.
Cut up the sheet into pieces that you need while it's still soft. Then airdry the sheets till they have gone firm.
Through this method, you'll produce fake skin that's similar to the quality of rubber-based fake skins. You won't get the realistic experience that pig skin could provide you, but your fake skin will be on par with the best artificial options.
You can also shorten the process by using cornstarch, coloring, and silicone only, mixing the two and drying in a similar process. This is a faster process as you don't have to knead as much, but the end product won't be as good as the one I've listed.
Additional Read: Tattoo Practice Skin Alternatives
Conclusion
As an apprentice or an aspiring artist, you need to practice as much as you can and as often as you can. Not having a canvas or practice skin shouldn't stop you from it. Knowing how to make fake skin for tattooing will allow you to always have access to a large quantity to work with.
While practicing, you shouldn't fret about experimenting or taking risks. Otherwise, you won't learn. With this recipe, you'll never have to worry about running out. Remember to always expand your horizons, and master new styles of artwork.
We are sorry that this post was not useful for you!
Let us improve this post!
Tell us how we can improve this post?