How To Prepare For A Tattoo Consultation?
A meeting with the tattoo artist is a critical phase in the procedure when you may explain your ideas and gain guidance. It's crucial to understand how to be ready for a tattoo consultation whether you're getting your first tattoo or the fifth. So, the question is, How to prepare for a tattoo consultation?
To ensure a successful tattoo consultation, it is important to prepare beforehand. Start by researching the artist and their portfolio to determine if their style aligns with your preferences. Consider the location, size, and design of the tattoo and gather reference images. Write down any questions you may have for the artist.
Plus, you should arrive at the consultation with an open mind and be willing to discuss your ideas and receive suggestions from the artist. With proper preparation, your tattoo consultation will be a smooth and enjoyable experience.
In this article, I will walk you through the procedures to make sure your experience is effective.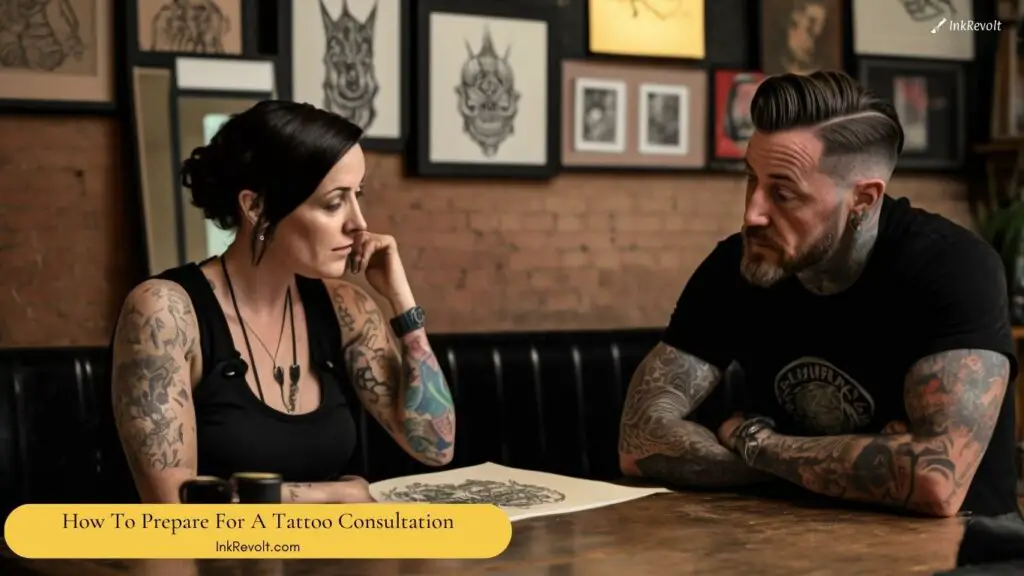 What Happens at a Tattoo Consultation?
In order to discuss and plan the specifics of a future tattoo, the customer and the tattoo artist meet during a consultation. Usually, the following happens during the consultation:
Introducing: The tattoo artist introduces him/herself and thanks the customer. The customer is required to present an ID to verify their age.
Discussion of Ideas: The client explains his/her tattoo idea, and the artist listens, offers suggestions, and provides feedback. The tattoo artist may also show the client examples of similar tattoos s/he has done in the past.
Design Sketch: If the client agrees on the design, the artist will then make a rough sketch of the design for the client to review.
Size, Placement, and Color: The client and artist will then discuss the size, placement, and color of the tattoo. The artist will take into consideration the client's skin tone, muscle, and body shape to determine the best placement.
Health and Safety: The artist will go over the aftercare instructions and answer any questions the client may have about the healing process and risks associated with getting a tattoo.
Pricing: The artist will give the client an estimate of the cost of the tattoo.
Scheduling: If the client is satisfied with the design and the cost estimate, they will then schedule an appointment to complete the tattoo.
Overall, the goal of a tattoo consultation is to ensure that the client and artist are on the same page and to make sure that the final result is what the client wants.
Can You Get a Tattoo Without a Consultation?
Yes, getting a tattoo without consultation in some places is possible, but it is not recommended. Most reputable tattoo shops require clients to come in for a consultation prior to getting a tattoo. 
During the consultation, the artist will discuss the design, placement, and size of the tattoo, and answer any questions the client may have. This is a crucial step in ensuring that the client is completely satisfied with their tattoo and that the artist is able to properly understand the client's vision.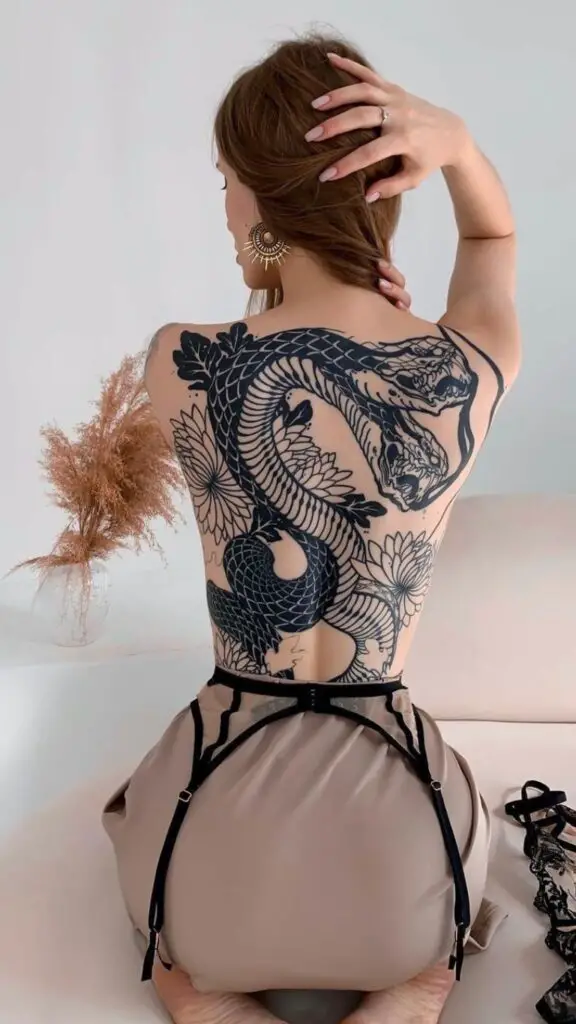 Getting a tattoo without first consulting with a professional may result in a badly performed tattoo that the customer is dissatisfied with. Furthermore, not getting a consultation may raise the chance of infection or other tattoo-related consequences.
Finally, before having a tattoo, it is usually a good idea to check with a respected tattoo artist.
Step-by-Step Preparation For Tattoo Consultation
We completely realize that getting your first tattoo might be intimidating. We are attempting to improve the way individuals participate in the tattoo community, which includes making everything easier, more accessible, and less daunting for folks like you! In this First Tattoo Guide, we walk you through the process of booking your first tattoo session, step by step.
Step 1: Research
Research different artists, styles, and designs. It is important to choose an artist that you trust and whose style resonates with you.
Step 2: Schedule a Consultation
Contact the artist or studio to schedule a consultation. During the consultation, you will discuss your ideas and get an estimate of the cost.
Step 3: Prepare Your Ideas
Make a list of the designs or styles you are interested in, any specific placement you have in mind, and any colour preferences you have. This will help the artist get an idea of what you are looking for and make recommendations if necessary.
Step 4: Gather Reference Images
Collect images of tattoos that you like, as well as any sketches or drawings you may have. This will give the artist a good starting point for your design.
Step 5: Clean the Area
Make sure that the area where you want your tattoo is clean and free of any irritations or infections.
Step 6: Dress Appropriately
Wear comfortable clothing that allows easy access to the area where you want your tattoo. Avoid wearing clothing that is too tight or restrictive.
Step 7: Be Honest and Open
During the consultation, be honest and open about your expectations, your budget, and any concerns you may have. The artist will be able to help you find a design that fits your needs and budget.
Step 8: Get Your Questions Answered
Take the opportunity to ask the artist any questions you may have about the process, aftercare, and any other concerns you may have.
By following these steps, you will be fully prepared for your tattoo consultation and be able to make informed decisions about your tattoo.
What should I Ask In A Tatoo Consultation?
It's essential to ask plenty of questions during the tattoo consultation to ensure you fully understand the process. Before getting a tattoo, make sure it's the right choice for you at this time. To ensure you don't miss any important information, it's helpful to have a list of questions ready to ask your tattoo artist during the appointment.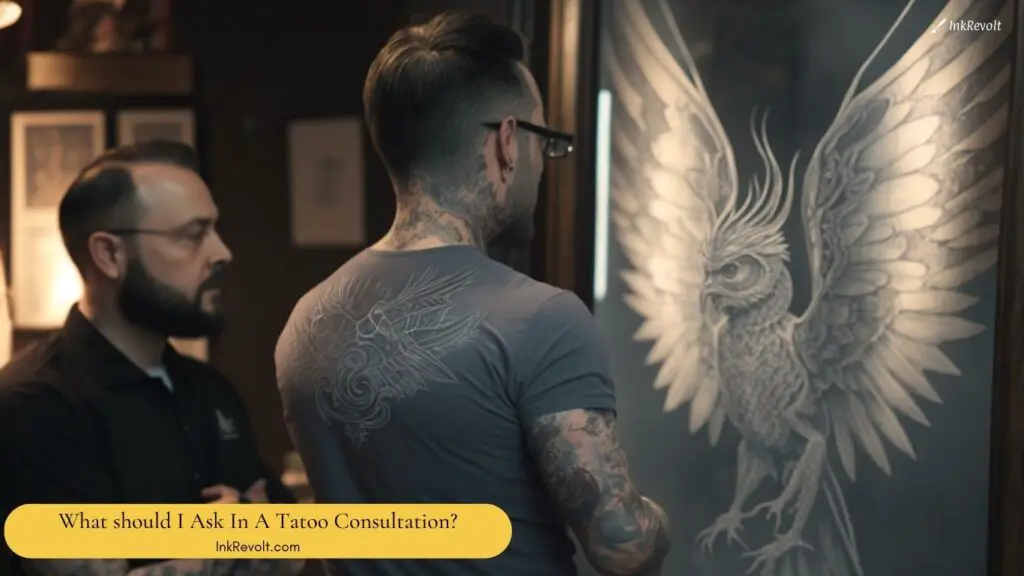 Make sure to ask your tattoo artist the following questions:
Design and Concept: Discuss the design and overall concept of the tattoo you want to get. Ask about the artist's creative process, inspirations and suggestions.
Placement and Size: Talk about the placement of the tattoo, the size and the outline. Ask the artist for their opinion on the best size and location for the design.
Colors: Ask the artist about the colors they would use, and whether they would use solid or gradient colors. Get an understanding of the color schemes that would work best for your design.
Healing and Care: Discuss the aftercare process and how to properly care for your tattoo. Ask about how long the healing process will take, and what to expect during that time.
Experience and Portfolio: Ask the artist about their experience and qualifications, and look at their portfolio to see their previous work. Get a feel for their artistic style and the quality of their work.
Cost and Time: Discuss the cost and time involved in getting the tattoo. Make sure you have a clear understanding of the pricing, any additional costs, and how long the tattoo session will take.
Questions and Concerns: Finally, make sure you ask any questions or express any concerns you may have about the tattoo. This can include questions about pain management, safety, and aftercare.
Asking these questions will give you a better idea of the artist's level of experience and expertise, as well as their philosophy and approach to tattooing. It will also help you feel more comfortable and confident in your choice of artist and the design they've created for you.
What Are Some Tattoo Consultation Etiquettes?
Tattoo consultation etiquette refers to the required behavior and politeness while visiting a tattoo artist to discuss obtaining a tattoo. It is critical to recognize that having a tattoo is a personal and serious decision, and the consultation process should be addressed with dignity and professionalism.
Here are some recommendations for proper tattoo consultation etiquette:
Be Prepared: Do some research before the consultation and have an idea of what you want. You should also have a clear understanding of the size, placement, and design of the tattoo you want.
Respect the Artist's Time: Tattoo artists are busy people and their time is valuable. Arrive on time for the appointment and be prepared to discuss your ideas.
Be Open to Suggestions: Tattoo artists are professionals who have years of experience. They may have suggestions for your design that you may not have considered. Be open to their ideas and willing to make changes if necessary.
Be Honest About Your Budget: Tattoo artists will want to know your budget for the tattoo. Be honest about how much you are willing to spend. This will help them to create a design that fits within your budget.
Be Respectful: Tattoo artists are creative professionals who work hard to create unique and meaningful designs. Be respectful of their work and don't ask them to copy designs from other artists.
Be Considerate of the Studio Environment: Tattoo studios are typically quiet and professional environments. Avoid talking loudly or using your phone during the consultation.
Dress Appropriately: Tattoo consultations are professional meetings, so dress appropriately. Wear clean and comfortable clothing that allows the artist to see the area where the tattoo will be placed.
By following these guidelines, you can ensure that the tattoo consultation process is respectful, professional, and enjoyable for both you and the artist.
Read More: Should You Tip Your Tattooist?
Frequently Asked Questions (FAQ)
Do Tattoo Shops Charge for Consultations?
It varies from tattoo shop to tattoo shop. Some tattoo shops offer free consultations, while others may charge a fee, usually ranging from $50 to $100. It depends on the location, artist, and type of consultation you are seeking. It's best to call or visit the tattoo shop for more information about their consultation fees.
What Do You Bring to a Tattoo Consultation?
Usually, people bring reference images, design ideas, and questions for the tattoo artist during a tattoo consultation. It is also advisable to bring identification, as some shops may require proof of age before proceeding with the consultation.
Is it necessary to have a certain design in mind prior to the consultation?
No, you don't have to have a specific design in mind, but having some ideas or inspiration can help lead the conversation and ensure you and the artist are on the same page.
How long does a tattoo consultation usually take?
A consultation typically lasts anywhere from 15 minutes to an hour, depending on the complexity of the design and the number of questions you have.
My Two Cents At The End
In conclusion, preparing for a tattoo consultation is an important step in the tattoo process. By bringing reference material, your budget, questions, clothing that allows easy access, and an open mind, you'll be better equipped to have a successful appointment. Remember, the consultation is a chance to discuss your vision with the artist and ensure you fully understand the process. With proper preparation, you'll be one step closer to getting the tattoo of your dreams.
We are sorry that this post was not useful for you!
Let us improve this post!
Tell us how we can improve this post?