How Much Does A Half-Sleeve Tattoo Cost?
Half-sleeve tattoos are becoming more and more popular nowadays. This is because they look as awesome as full-sleeve tattoos. Plus, while a half-sleeve requires much planning as well as preparation, it is less costly than a full-sleeve.
The pricing of half-sleeve tattoo is usually hourly-based. The average price range of a small-sized tattoo to a medium-sized one starts from $50 and can go as high as $500. In the case of a half-sleeve tattoo, the cost will be between $500 and $4000.
The total price is based on how much time it needs to make the tattoo, the artist's charging rate, his/her location and experience level, etc. The rest of the article will discuss each of the factors. I hope you'll keep reading.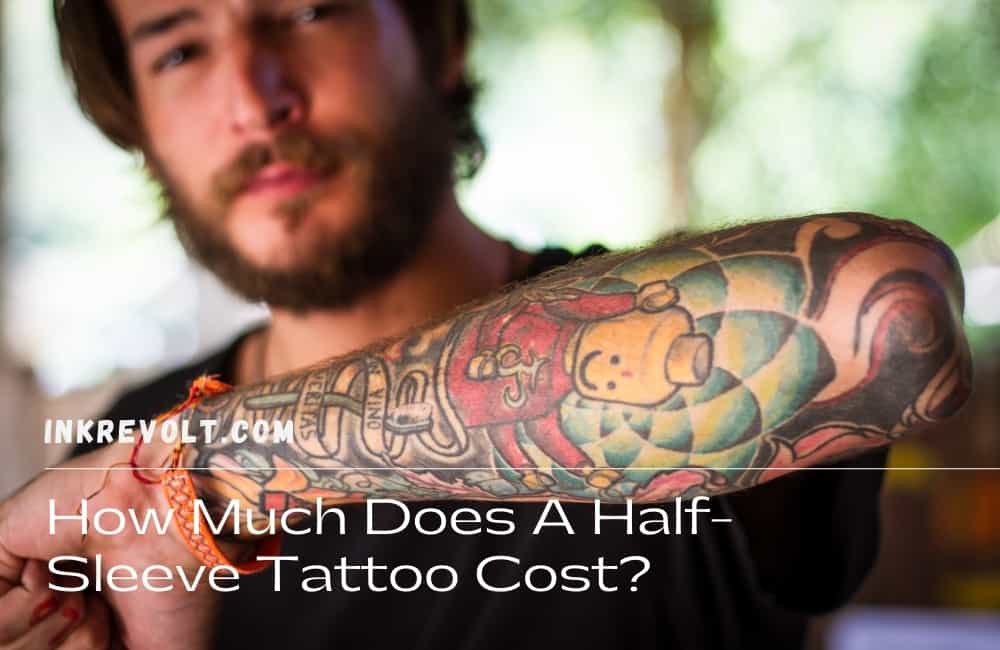 How Does The Price Vary From One Artist To Another?
The tattoo artist you choose is one of the most critical factors of any type of inking experience. You can see the difference this decision can make between a meticulously done tattoo and an "I wish I didn't have this one" type of tattoo.
So apparently, the more experienced and professional artist you choose, the more costly your half-sleeve tattoo will be.
Tattoo artists fix the pricing on the basis of their experience level, previous work, and skill. Before you make an appointment, check all of these out. It will give you an idea of what you should expect and may even save you from a wrong decision.
There are many reputed artists who provide a countrywide service. People usually seek after them if they want to have tattoos. You might not get the pricing details on their websites. Some of the artists are a little discreet about the information.
If you're looking for a renowned tattoo artist to make you a half-sleeve tattoo, you will have to be really extravagant for that. However, you can also go for practicing tattoo artists that are working on increasing and improving their skill and building their portfolio. They may provide you a service for a small or no charge at all.
Regardless of what kind of artist you choose, it is always wise to do some research on them for their working methods and reputation.
You should research thoroughly if you choose an artist who isn't well-established. Just get some information about the parlor and the mentor. That will do.
Artists who are not that famous charge $40-$80 for each hour. On the contrary, famous artists' hourly rate starts from $120.
Additional Read:
How Does The Studio Location Matter In This Regard?
The price of a half-sleeve tattoo also varies with the studio location. A studio/parlor located in a city will charge you more than a parlor located in a rural area. This is mostly because of the living cost and the fact that experts prefer cities to rural areas.
In some cities, reputed parlors can charge you higher than $30,000. (No, I am not kidding.)
But for an average artist, you can expect to pay an amount between $1000 and $2000. Again, that depends on how the artist sets the rate and the time he/she needs to make a half-sleeve tattoo.
What About Time and Design?
Another reason why you should go for a half-sleeve instead of a full-sleeve is time. A half-sleeve tattoo requires less time than a full-sleeve one—the less the time, the less the charge.
But don't forget the design. It is one of the main components of a tattoo. You, like a lot of people, might want to have a unique tattoo. And that's completely understandable but let me remind you, you'll have to spend a lot on that because an intricate design is likely to take a lot of time.
Simple designs will take less time. But if it is a color tattoo, it will take longer.
Is It Possible To Get A Half-Sleeve Tattoo Done In A Single Session?
To put it simply, it depends on two things – the design of the tattoo and your pain tolerance.
There are times that you feel tired and exhausted, and you feel physically too weak to tolerate any kind of pain. If you are going through a time like that while having your tattoo done, you might decide to keep the rest of the tattoo for a second session.
The second session usually starts when the ink of the previous session heals, which takes three weeks (more or less). Once the ink heals, you can schedule the second session with your artist and have it completely done.
You can also have a half-sleeve done in a single session taking short pauses in between. But remember not to take long breaks. Because long breaks during a session can cool off the skin of your hand so much that it might increase the sensitivity.
The cost won't be affected by the number of sessions. If your artist can predict the number of hours, it will take him/her to complete your tattoo, doing it in one session or splitting it into several sessions will not make much difference.
Final Words
To recap, the price of a half-sleeve tattoo depends on the tattoo artist, parlor/studio location, tattoo design, and time.
If you don't have a big budget, it's totally fine. But do not let that keep you from choosing a reliable and experienced artist. Request a price quotation while researching so you can start saving up beforehand.
After you are done getting the tattoo, it's of utmost importance that you follow the aftercare advice given by your artist correctly. Buy yourself a high-quality tattoo healing lotion to get a speedy recovery.
If you want a recommendation, you can check this one out. It gives impressive results by keeping the tattoo well-hydrated and soothing any type of skin irritation.
Now, if you're sure about getting a half-sleeve tattoo, start saving up. Invest properly. Otherwise, it might cause you to spend a lot more in the future.
Good luck getting tattooed!
We are sorry that this post was not useful for you!
Let us improve this post!
Tell us how we can improve this post?