Spektra Xion Tattoo Machine Review: [Sleek And Powerful]
As time passes, everything is becoming more technological, with manufacturers always trying to create something new, creative, better, and more beneficial. The same thing applies to the tattoo arena.
Tattoo equipment and supplies have developed over time. Now they are more digital with more efficient performance and capabilities. A crucial example of that is the advent of wireless tattoo machines. They have revolutionized the trade by bringing in more comfort and ease while delivering extraordinary output.
How they do that is the main focus of the article, as it will talk you through the benefits and innovative features of the Spektra Xion Tattoo Machine from FK irons. Have a go at it.
Introducing Spektra Xion Tattoo Machine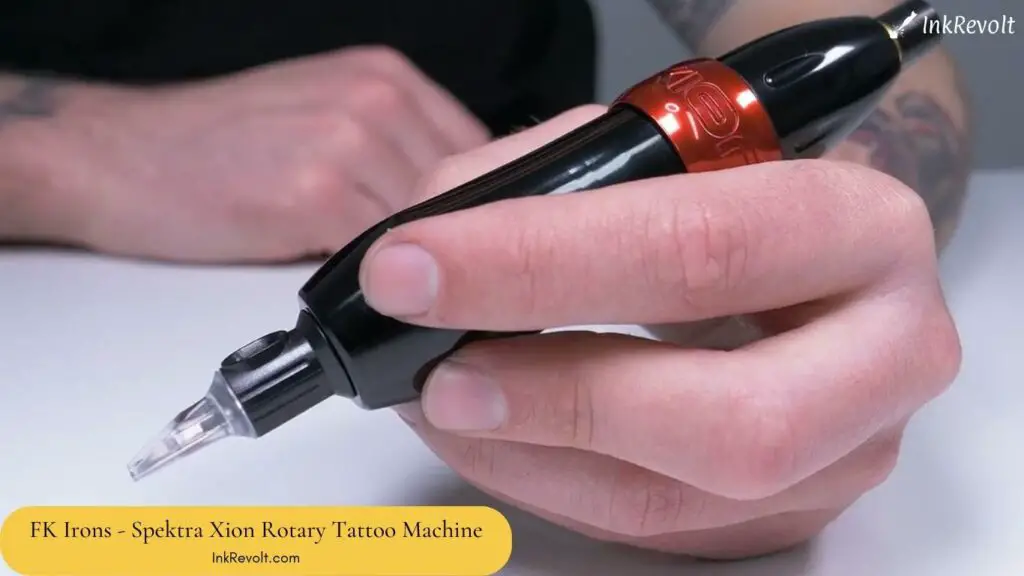 The Spektra Xion, a pen-style rotary tattoo device, is a brainchild of the professional experts at FK Irons, which is the successful outcome of a rigorous R&D procedure of 3 years.
Let's look at its prime specs.
Spektra Xion Specifications
Brand: FK Irons
Item Weight: 5.36 ounces
Type: Wireless rotary machine
Frame: Aluminum
Operating Voltage Range: 4V – 9.5V
Needle: Cartridge
Purpose: Shading and lining
Grip: 25 mm
Strokes: 3.2 mm
Stroke Wheels: 3.2 mm and 3.7 mm
Motor Power: 6W
Autoclave Temperature: 270-degree Fahrenheit (132.222-degree Celsius)
Warrant: 1 year
Manufactured In: USA
Who Is This Product For?
Anyone looking to buy a high-end, premium-quality wireless tattoo pen machine
They want a device with a lightweight and ergonomic design with advanced features.
They would like to work on various tattoo techniques with the device.
Effortless control and functionality are mandatory for them.
They are finding a machine adept at shading and lining both.
Problems You Might Have To Face
Although the brand says that the grip is adjustable, you may struggle to use it at its full potential. There is another option if you have the same issue or feel like you may face it. Go for the slightly upgraded version Spektra Xion Gorilla, which has a more ergonomic and larger grip design.
Pros And Cons Of Spektra Xion
Pros 
A cozy and easy-to-operate design
High power and adjustable voltage
Optimal control and maneuverability
An autoclavable grip
Versatile functions
Easy maintenance and a year of warranty
Cons
While justifiable in every aspect, it is still too pricey, particularly for beginners and apprentices.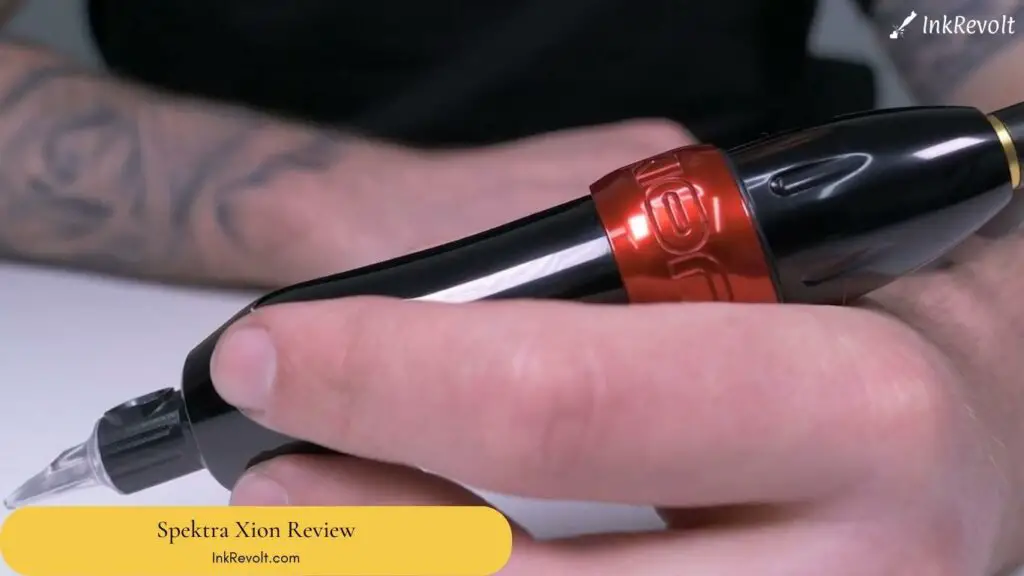 Spektra Xion Review: Features And Benefits
So, what are the functions and settings of the Spektra Xion that took its manufacturer to work for 3 years straight? I will give you the answer.
Design
The Spektra Xion is a cartridge-dedicated, pen-style rotary tattoo machine with an ergonomic, light, and straightforward design. It will support you during long sessions without a fuss. That is how the brand developed it, having it tested by tattoo artists worldwide.
Motor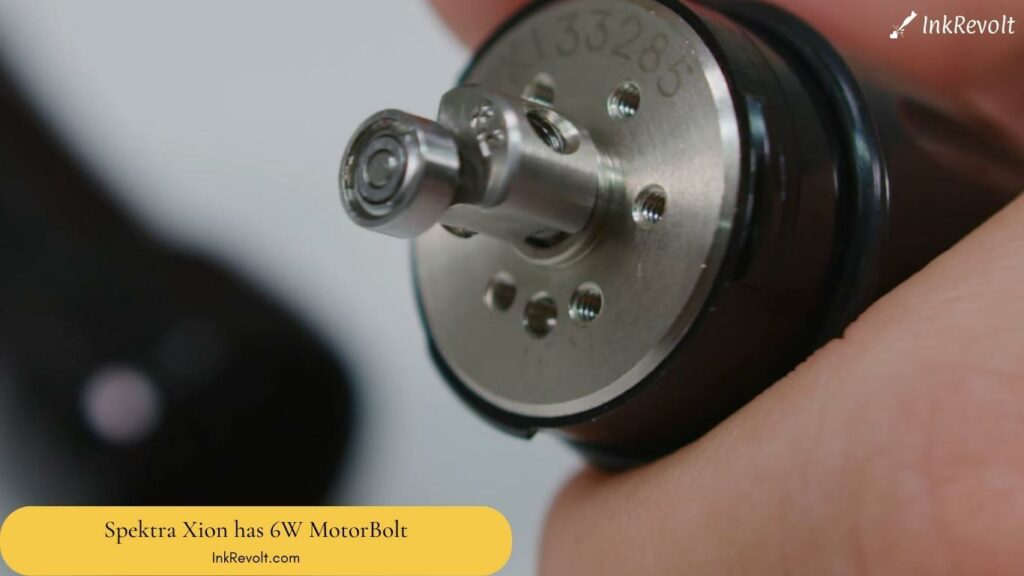 There is an advanced 6W MotorBolt to power the device and ensure maximum performance from the cartridges by generating optimal torque during your sessions. Additionally, FK Irons sealed the MotorBolt with its RCA connection for higher security.
Seamless Grip
The grip of the tattoo pen is seamlessly ergonomic. So everyone can comfortably handle and cover it.
It depends on how you want to set it up because of its adjustable stroke length, needle depth, and give.
Adjustable Stroke Length
You can adjust the stroke length by including the two-stroke wheels, 3.2 mm, and 3.7 mm. The complete adjustability translates into giving you better control. As a result, you can depend on it to practice various tattoo styles.
And in the process, the device plays a role in discovering your potential and expertise in particular techniques. See, the 3-year research was not for nothing.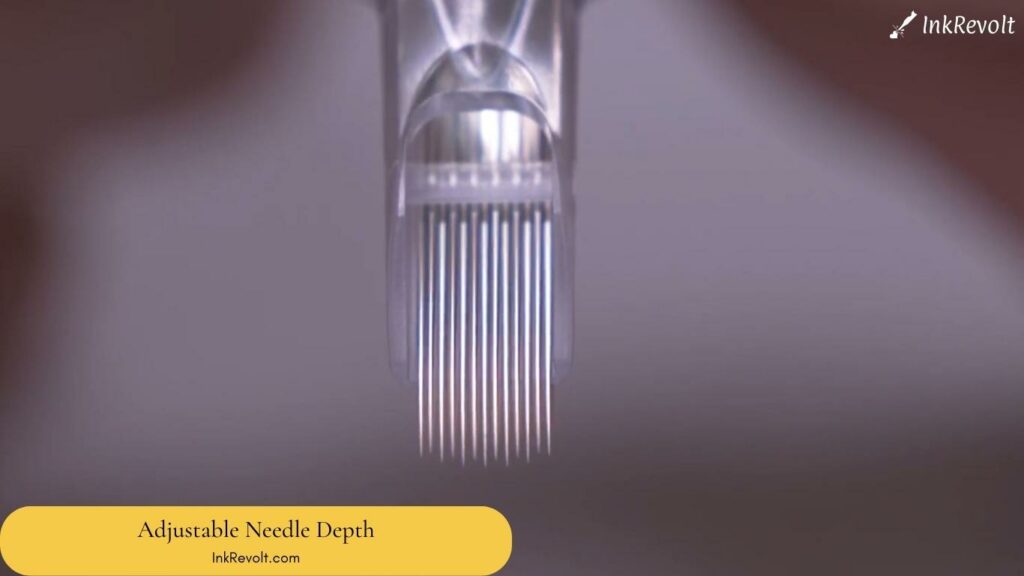 Adjustable Voltage Range
FK Irons made and tested the tattoo pen with an operating voltage range between 4V (minimum) and 9.5V (maximum). Such width in voltage helps you work on different tattoo work because each demands a specific scale for a perfect outcome. Again, the device lets you experiment with your skill instead of getting stuck to a specific type of tattoo application.
However, bear in mind that the brand advises against crossing the maximum voltage limit. It can fry the device motor and cause malfunctioning.
High Maneuverability
When the machine is in full force, it gives you the upper hand in running it, which, when coupled with the motor's power, enhances your skill and expertise in no time. With such high maneuverability, it passes the test of professionals and fulfills the demand of beginners.
Exquisite Lines And Shades
You will receive equally excellent service from Spektra Xion with its terrific lines and shades. It often happens that a tattoo machine cannot perform both activities adeptly. So you have to use individual devices for lining and shading.
But it can single-handedly do both, leaving you no room for complaints.
Easy Maintenance
There is no rocket science about the upkeep of the Spektra Xion and its MotorBolt. You can wipe them using sanitation products after using them each time. As for the grip, you can use steam autoclaves to take care of it. Use only steam autoclaves and strictly maintain the temperature limit set by the company.
Alternative Options
Cheyenne Hawk Pen: This is a popular pen-style tattoo machine that is known for its quiet operation and ergonomic design. It falls within the price range of Spektra Xion, and it is a reliable choice for professional tattoo artists.
Bishop Wand: This tattoo machine is another popular option in the pen-style category. It is lightweight and easy to maneuver, making it a popular choice for intricate designs.
Axys Valhalla: This pen-style rotary tattoo machine is known for its versatility and adjustable needle depth. It is also designed to reduce vibration and noise, which makes it a comfortable choice for long tattoo sessions.
Final Words
FK Irons made its Spektra Xion by focusing on tattoo artists. It wanted to provide a device that would not only do its job barely but also create value by helping users flourish their talent. Needless to say, the brand was successful at its attempt.
If you want to become more creative with your work, consider Spektra Xion. Who knows, maybe it could be a step-up in unleashing your true potential and becoming a more skilled tattoo artist!
We are sorry that this post was not useful for you!
Let us improve this post!
Tell us how we can improve this post?