What Do You Need To Do Microblading?
Microblading can be an excellent skill to master if you want to build a career in the beauty industry. It's a growing field with great career growth potential and earning opportunities. If you want to become a microblading professional but are not sure how to start, give this article a read to get a brief overview.
Who Can Do Microblading?
The regulations on professional microblading practice are not the same across all the states in the US. In Alabama, for example, you don't need any cosmetology license to practice microblading. A bloodborne pathogen training certificate and a tattoo license are mandatory, however.
In California, on the other hand, you would not need a tattoo license. Completing bloodborne pathogen training is good enough to apply for your license at the Department of Health. You also need a business license and a microblading certificate to set up your chamber.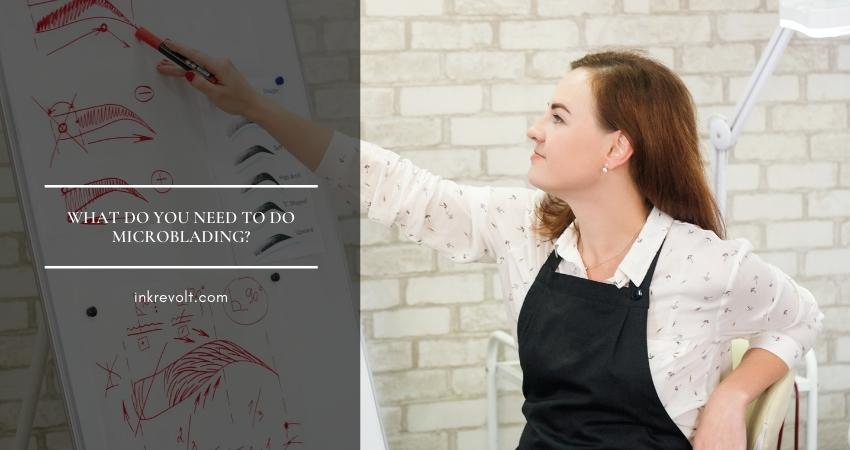 Therefore, anybody over the age of 18 can practice microblading as long as they meet the criteria of their respective states. It generally requires approval from the local health department, a microblading course certificate, a business license, and a facility that complies with the local body art standards.
How To Get Your Microblading License?
As we mentioned earlier, regulations vary from state to state. So, you need to get in touch with the local health department to find out how you should proceed and what documents you would need to submit. Usually, you require to complete training, work as an intern and then apply for the license. After you pass the inspection, you will get the license.
What Do I Need To Do Microblading?
Step 1. Take A Course
Effectively mastering the skill is the key to becoming a successful microblading artist. The only way to do this is to take a good course that covers the fundamentals of microblading, including face mapping, color matching, hygiene, equipment, etc. Most live classes last a few days, and you get a certificate of attendance right away.
But you will need to put in a bit more effort to get your final microblading certificate. Work as an intern under a licensed practitioner for five to six months. Afterward, you will get a letter of approval from your mentor. The online training could take a bit longer to complete, but it would be a good option if you can't clear your schedule for a week to take live classes.
Step 2. Apply For Your License
In most states, you will have to obtain a license from the appropriate authority to practice microblading legally. To apply for a license, you would need to provide a certificate that validates that you have completed training under a certified instructor. You might also need to work as an apprentice for a certain amount of time to apply for a license.
Additional documents might also be necessary. Contact the Department of Public Health in your state to learn about the requirements for a microblading permit. If you want to practice in multiple states at the same time, you will have to get separate licenses for each of the states. For example, you can't practice in California with a Florida license.
Step 3. Open A Shop
After securing a permit, set up your salon. When you are looking for a new shop, choose the location wisely. You don't want to set up shop in a location that is not easily accessible. Also, the prime spots might cost more than your budget. So, try to find the best possible location within your budget. You can also consider converting a room in your house into a salon.
Create a relaxing vibe inside your salon by decorating it and investing in high-quality tools and equipment. A bed, decent lighting, disposable supplies, and a variety of pigments will cover the essentials. Additionally, you will require a supply of post-operative care items to give your clients.
Don't forget to keep your equipment sterilized all the time and keep the salon clean. Health inspectors can drop by unannounced at any time, and if they find you violating hygiene standards, your license might get revoked, or you may have to pay a hefty fine.
Step 4. Fix The Pricing
As a new practitioner, you should keep the price lower than experienced artists. After gaining experience, you can charge more for your services. You should take your pricing decision considering the availability of other microblading artists in the area.
If the competition is fierce, your initial pricing should be lower than those of your rivals; as your reputation grows, you can raise them.
If your prices are much higher than those of your competitors, you run the risk of losing some potential clients to cheaper artists. If you price a lot less, prospective customers can get skeptical and distrust your knowledge. So, going too high or too low both can yield damaging results for your business.
Addituional Read: How much money can you make microblading
Step 5. Put The Word Out
Getting customers is the most important part of running a successful business, and marketing is the only way to do that when you're just starting out. The first step is to make a website that looks professional and has all the information clients need. Spend money on a website that looks good and shows what your brand is all about.
You can put out ads on Craigslist to draw clients.
Craigslist is a cost-efficient way for small businesses to promote their ventures and connect with the local community. Make sure to go through the Craigslist help forum before posting so that you can make the most out of your ad campaigns.
Also, don't forget to create social media profiles for your salon and remain active. Your regular social media activity involves:
Sharing images of your work (before and after shots can make so much difference).
Promoting specials.
Sharing announcements.
Being accessible to answer any queries.
Final Words
If you are passionate about makeup and cosmetics and want to become an entrepreneur in the beauty industry, microblading can be a perfect fit for you. Skillful microblading artists are high in demand, so they can charge premium prices for their services.
If you learn the craft with patience and keep on improving yourself in accordance with the changing trends, you can also become a successful microblading artist. So, enroll in a good program, get your license, and start building your reputation through your work.
We are sorry that this post was not useful for you!
Let us improve this post!
Tell us how we can improve this post?