Are Stick And Pokes Safe?: Measures To Take Before Getting A Stick & Poke Tattoo
When you think of getting a tattoo, you decide to make a temporary or permanent change in your body. The concern becomes deeper when it is a stick and poke tattoo. Because of the procedure of this tattooing technique, one question keeps bugging you. Are stick and pokes safe?
Stick and pokes are safe and hygienic, provided that you can ensure that the tattooist carries out the process correctly with the appropriate equipment. 
The thorough explanation lies in the article highlighting the factors you should contemplate to ensure the safety of your stick and poke tattoo.
Care to give it a read?
How To Ensure Safety And Hygiene Of Your Stick & Poke Tattoo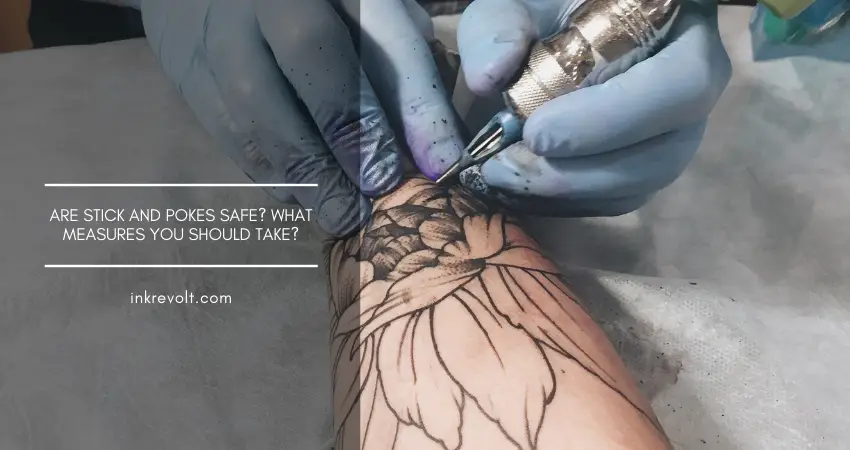 1. Using Professional Equipment
Stick and poke tattoos have a poor reputation because individuals frequently use household stuff to make them. But that should not make you get the idea off your head. If you follow the safety precautions, you can always have a homemade stick and poke tattoo.
And the precautions start with the choice of your equipment. Using professional supplies plays a prime role in getting good tattoos. If you thought you could do it with pen inks and sewing needles, you should rethink that. Apart from giving you a tattoo with an unattractive image, they will also get you infected.
It is because burning the sewing needle's tip is not enough to fight bloodborne pathogens. Okay, then what is wrong with pen inks? You should never consider it, even if that means getting no tattoos at all. Pen inks are mostly toxic and not at all suitable for being inserted into human skin.
The only way to do it the right way is to get professional equipment. There is no alternative to it.
Read Next: Best Stick & Poke Tattoo Kits
2. Disposable Or Sterilized Tattoo Equipment
Getting professional devices will not do all of it. You have to prepare them to be apt for making tattoos. If they are not sterile, the risk of getting an infection will still say there.
The equipment that you choose to use should be either disposable (the better option) or sterilized in professional autoclaves. Whenever you finish making a stick and poke tattoo, dispose of the used tattoo needles as soon as possible. Always use new supplies for every new tattoo. Do not allow yourself to be a miser in that regard.
3. Getting Familiar With Safety Standards
If you do not want to sweat yourself pondering whether stick and pokes are safe or not, make the safety standards your bosom friend. Along with using sterilized and professional supplies, educate yourself about your surroundings and their cleanliness. It is mandatory because tattoos can get contaminated in two ways: bloodborne pathogens spreading out and bacterial infections.
Every time you are prepped to ink, clean the surface around you. Then cover the place with a disposable sheet. Afterward, get your forearms and hands washed, and wear a fresh pair of nitrile gloves. Finally, clean the body area to get tattooed with alcohol wipes after shaving its hairs to prevent infections.
Once you complete the whole drill, dispose of the bio-hazardous materials properly. It is even better if you look for your country or state's rules and regulations by googling.
Read More: How Long Does Stick n Poke Last? And How To Remove A Stick n Poke?
4. Purchasing The Tattoo Equipment From A Well-Reputed Manufacturing Company
Illegitimate companies are nowadays mushrooming in the market to sell tattoo materials. And they are almost always of poor quality, made with chemical-based toxic materials. Keeping that in mind, always get your equipment from a reliable and trustworthy manufacturing company. This is especially important for tattoo ink and needles.
If you prefer buying them from an online tattoo supplier, check twice that they source the equipment only from reputable tattoo companies.
5. Considering Issues That Might Impact The Tattooing Process
Again, getting a tattoo means giving your body an inseparable part for a considerable amount of time. So, when you get fixated on the idea of getting tattooed, do not forget about the things to take into account on a whim.
If you do not feel well, or contact skin infections, or have allergies, you may need to take some time before jumping to the decision of getting a stick and poke tattoo.
Suffering from either of the mentioned problems will weaken your immune system, increasing your chances of getting infected because of the tattoo. It may also keep you from focusing clearly while tattooing. That increases the risks of spreading dangerous bacteria further.
To top it off, the likelihood that the final tattoo design will come off poor will rise. Even if you are indifferent to your health condition, I hope you will think about it. It is better to get no tattoos and stay safe than to get one with a disappointing outcome, and that too with infections.
Read More: Shoulder Tattoo Design Ideas
What Can I Do When My Stick And Poke Tattoo Is Complete?
There are some things you can do when your tattoo is there, all ready and complete. They will aid you in maintaining safety.
Just when the process is complete, clean the tattoo surface off using antibacterial soap and warm water.
Buy any skin ointment and use it over the tattooed area for some days. You can also apply unscented lotion as long as the skin does not keep peeling or feeling dry.
Put on loose clothing so that it does not feel heavy and create pressure on the tattooed skin.
You can cover the tattooed place with a bandage. But it has to be breathable.
If it starts scabbing, do not poke at it. Scabbing is the natural sign that your body has begun to recover from the tattooing procedure.
Stick and poke tattoos usually heal well. But if you get a massive and detailed one, it will take more time than usual. In that case, be more serious about taking care of it during the post-tattooing period to prevent any infection.
Practice As Much As You Can Before Tattooing On Yourself
So far, I have talked a lot about hygiene. But learning about it through gaining experiences is equally important. If you think the worst scenario that can occur because of insufficient experience is a low-quality tattoo, you are wrong.
Lack of experience means you are yet to understand many things about the process. For example, it may lead you to get too far into your skin. That will create a tattoo blowout if you are lucky. If not, you might get keloid scarring.
Keloid scarring is tender and can mess with movements if you tattoo somewhere too deep in your joints. Trauma to the scars, again, will spike the risks of your getting localized bacterial infections.
Considering all of that, you may think of practicing making stick and poke tattoos on artificial skin before you try it on yourself or other people. Practicing gives you the benefit of understanding the process and learning how deep one should go while tattooing.
Ensure Safety of Your Stick & Poke!
So, what do you think? Are stick and pokes safe? My honest answer would be this: as long as you are willing to take the measures to maintain its safety.
Doing something in the appropriate manner using the right means with adequate knowledge and experience is the only best way to get it perfectly done. Putting that in a nutshell, you have to use authentic supplies, maintain health and safety rules as per your state's rules and regulations, and gather experience before getting a stick and poke tattoo. It takes a long route, yes. But it will give you the desired outcome while keeping you safe.
I hope the read was helpful. Good luck with getting a stick and poke tattoo!
We are sorry that this post was not useful for you!
Let us improve this post!
Tell us how we can improve this post?