How To Get Rid Of A Stick And Poke Tattoo?
Have you ever had your dream stick and poke tattoo only to regret having it later? Or what about having a tattoo done in the wrong way? Nobody wants to show off a tattoo they do not like. The only solution open to them is getting rid of it.
There are several ways to get rid of a stick and poke tattoo. You can try Salabrasion, lemon juice, honey, and aloe vera, and sand to remove a stick and poke tattoo. You can also have it gone with laser treatments and other professional methods of tattoo removal.
In the next section of the article, I will tell you what to do in each method to learn how to get rid of a stick and poke tattoo. Read all of them to find out which will be the most suitable one for you.
How To Get Rid Of A Stick And Poke Tattoo: 5 Methods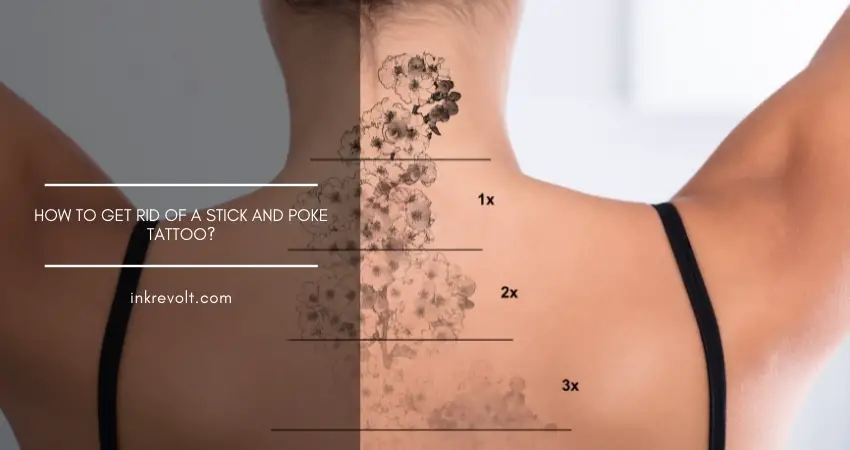 1. Salabrasion
It is the method that requires you to rub off your tattoo using salt. The process is painful as you have to scrub your epidermis layer and get into the dermis, the location of the tattoo ink. Here is how you can remove your tattoo:
Clean the tattoo area first. Then take some cotton gauze and dip it into water mixed with salt. Afterward, scrub your skin with it.
Alternatively, you can also use salt crystals to rub your skin. Do that for half an hour.
After you finish scrubbing, you will see open wounds on the tattooed skin. Apply antiseptics there to prevent infections.
2. Lemon Juice
You might have seen people trying to get rid of black spots applying lemon juice on their skin. It works as a bleaching agent, which can remove the stick and poke tattoos. But it is a lengthy process. You will not get results before two months.
Rub some lemon juice onto your tattooed body part with some cotton gauze. You can make the juice out of fresh lemons or grab some from a nearby supermarket.
Let it fully dry before wiping it off. Do it four to five times on the same day.
You will see your tattoo starting to become lighter within a couple of weeks before it is entirely gone.
You can also use some salt with lemon juice to scrub your tat off.
3. Sand
Just like Salabrasion, you can also apply sand to get rid of your stick and poke tattoo, an equally painful method. You need to scrub your tattooed skin using sand so that the ink bleeds out manually from your dermis layer.
Get sandpaper and sanding powder. You can also use cloth instead of sandpaper.
Scrub for half an hour after cleaning the area. Use antiseptics or take antibiotics to prevent any kind of infection.
It will take several sanding to generate noticeable changes.
4. Honey And Aloe Vera
Natural ingredients like aloe vera and honey have a good reputation for fading stick and poke tattoos effectively at home. You can apply them individually or paste them together before applying.
It will not give you instant progress, but it is painless. The fading will start within a month, as the lemon juice method.
5. Laser Tattoo Removal And Other Professional Methods
Most people get the stick and poke tattoos at home, following not-so-healthy processes that have high exposure to risks of allergies, cross-contamination, infections, and other health issues. So, people also try DIY methods to get rid of their tattoos. And they are not harmful at all.
However, it is highly recommended that you get tattoos from professional tattoo artists. They are aware of the health issues and sterilize their equipment before making a tattoo.
You can take professional treatments like excision, dermabrasion, and laser tattoo removal. They are safe, and you will get proper guidance all the way. But note that the methods are highly costly, while they are worth it. They are not lengthy procedures and put you at no health risks.
Frequently Asked Questions
How Costly Is It To Get Rid Of Stick And Poke Tattoos?
If you want to get rid of your tattoo professionally, you can go for the surgical methods. They are less expensive than dermabrasion and laser. Their prices vary as per the tattoo size, area, and how many sessions are required. Tattoo removal clinics in your area should give you an estimate of each method.
How Many Sessions Will I Need If I Choose The Laser Tattoo Removal Treatment?
That depends on some factors. But on average, you might need 7 to 10 sessions to remove your stick and poke tattoo. The factors for determining the number of sessions are the color of the tattoo ink, how long you have had the tattoo, and if you have any health condition. An expert is better suited here to handle your situation and make the procedure safe for you.
Is It Okay To Donate Blood After Tattoo Removal?
Yes, it is. Most people think one should not donate blood if he/she has a tattoo or piercing. That is like a myth. The ink of stick and poke tattoos tampers with one's immune system and exposes one to various diseases.
So, the person should wait at least a year after getting a stick and poke tattoo to donate blood. The same thing applies to tattoo removal. One can go for blood donation after a year of erasing their stick and poke tattoos.
Final Words
So, that was all about how to get rid of a stick and poke tattoo. If you choose a DIY method, secure its safety first. A wrong move may give you ugly scars and serious infections. If you do not want to take any risk, it is best to go to one of the well-reputed laser removal clinics or choose some affordable professional procedure.
Hopefully, the article was helpful. Good luck getting your tattoo removed!
We are sorry that this post was not useful for you!
Let us improve this post!
Tell us how we can improve this post?