How to Make Non-Toxic Homemade Tattoo Ink?
A lot of people are now afraid of getting a tattoo because tattoo inks often have microbiological contamination. When contaminated, they become toxic and cause skin damage. So, the safer option here is to make the ink on your own at home.
There are several ways to make homemade tattoo ink, all of which are simple. Each process requires a carrier like water or alcohol. With either of that, you mix pigment powder or other supplies like carbon ashes, baby oil, glycerin, etc., depending on the method.
The article will shed light on the methods of how to make non-toxic homemade tattoo ink. If you want to get a tattoo with safe ink, you should read it.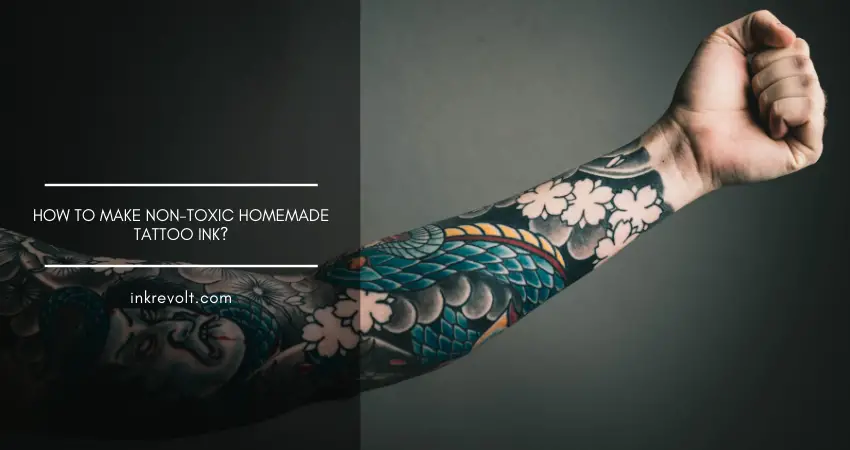 Method 1: The Ancient Recipe For Tattoo Ink
Ancient cultures used to make their tattoo inks using natural ingredients. One of their easiest recipes is entirely burned wood ashes with water to make solid black ink.
Black ash carbonized from wholly burned wood increases the density of ink. But here, it is better if you do not use water as a carrier. Instead, you can go for vodka. It is antiseptic and clear. Have a look at the recipe below.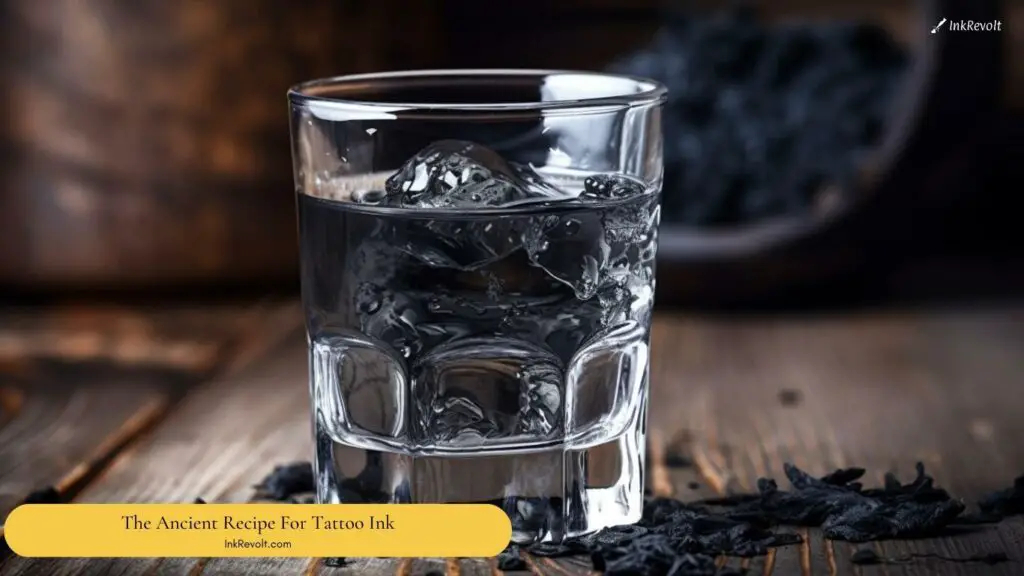 Ingredients
Vodka
A cup of carbonized black ashes
Procedure
Grab a blender (it has to be sterile), and put the black ashes in it.
Slowly pour vodka till the consistency of the slurries matches that of commercial inks.
Start blending them for an hour at mid-level speed. If the combination becomes too thick, pour some more vodka. Add more ashes if the mixture becomes too watery.
Use the ink immediately.
Method 2: Recipe For Professional-Grade Tattoo Ink
Since ink manufacturers don't have to disclose their ingredients anymore, many tattooists like to prepare their inks by themselves. That allows them to know and be aware of what the ink contains. There is a routine ink recipe that the pros frequently follow.
The recipe requires you to buy dry pigments from a dependable tattoo supply store, one you know does not use toxic materials to make tattoo ink. When you get them, sterilize the utensils before you mix them. Wear a pair of sterile gloves and a mask to safeguard the environment.
Here is the procedure following the list of ingredients.
Ingredients
Vodka or witch hazel (28 ounces)
A tablespoon of medical-grade glycerin
A tablespoon of propylene glycol
One or two inches of pigment powder
Procedure
First, mix the three ingredients: vodka or witch hazel, glycerin, and glycol together.
Now, take the powder in a blender, and add sufficient liquid slowly to make a slurry.
In this step, you should lower the speed and keep mixing for around twenty minutes. After that, check the mixture consistency. If it is overly thick, use more liquid. If it looks thin or washed out, take some powder and add them slowly to adjust. Remember that it is like giving trials and making adjustments until you get the desired consistency of the ink.
When you make the mixture perfect for your work, blend it again for an hour at a mid-level speed.
When it is ready, keep it in a sterile jar with a tight lid. Then store it in a place where the sunlight cannot access directly.
Additional Read: How to make home-made colored tattoo ink
Method 3: Recipe For Prison Ink (Not Safe!)
This one is an instance of how to make non-toxic homemade tattoo ink in prison. It uses simple elements, such as baby oil. Remember that it is a recipe concocted by prisoners, so it may not be as healthy as you would expect.
Materials
Mirror
Shampoo
Razor Blade
Baby oil or plastic razor
Toothpick
Water
Bottlecap
Ethyl alcohol
Procedure
Use a lighter to burn the razor, or heat the oil till it smokes.
Place the mirror, keeping 4 to 6 inches of distance from the oil or burning plastic.
Catch the particles of the soot on the mirror surface the moment the substance starts to smoke.
Now take some shampoo and ethyl alcohol, and mix thoroughly. They will disinfect and thicken the formula. The quantity of the shampoo should not be more than two drops, which is one in the case of ethyl alcohol.
If there is any left over after using it for a tattoo, throw that away.
Method 4: Recipe For Brown Tattoo Ink
Artists often use brown ink as a replacement for black ink. It does not need any special preparation with lamp black or char black.
Ingredients
4 or 5 tea bags or four teaspoons of loose tea
One teaspoon of gum Arabic
Half-cup of boiling water
Procedure
Pour the water over your tea. Allow it to rest for 15 to 20 minutes.
Afterward, squeeze all the tannins from the tea bags or tea.
Now add the gum Arabic to mix it till you get a consistent formula. Have the ink strained to get some thick paste.
Let it cool before you bottle it.
Bonus Method: How to make home-made tattoo ink with a pencil
Taking Precautions
Each state has a department of health that strictly regulates tattoo shops. However, they are yet to regulate or approve tattoo inks, even if they are professionally manufactured. So, whether you will create the tattoo ink by yourself or not is entirely your decision.
If you do decide to take matters into your hand, always maintain precautions to stay safe by using professional-quality tattoo pigment powder and sterile equipment. Also, mind that homemade tattoo inks lack vivid pigments. And that can cause your tattoo design to look faded and washed-out. That might lead you to get a tattoo removal or professional touch-up in the end.
Final Words
So, there are four methods if you want to learn how to make non-toxic homemade tattoo ink. They produce effective results if you can follow the recipe correctly. Since they do not have any toxic ingredients, you can be sure that they are not risky, which is their main advantage.
However, do not forget to take the mentioned precautions at any cost during the process. If you cannot secure your safety, the better option for you is to buy ready-made tattoo inks.
Time to wrap it up. Best of luck making homemade tattoo inks!
We are sorry that this post was not useful for you!
Let us improve this post!
Tell us how we can improve this post?